Finding popcorn without palm oil is possible. You must read the labels. As with everything, the less ingredients, the better.
You can always make your own from an air popper or on the stove top. Air fryer popcorn is easy and fun to make as well. However, it's great to have the option to buy pre-popped popcorn for convenience, as an easy snack, and when you're on-the-go.
How to Find Popcorn without Palm Oil
Yes, it's convenient and delicious, but do not buy microwave popcorn as it most always contains palm oil. See below for one brand of microwave popcorn without palm oil.
Regarding bags of already-popped popcorn, unless you know for certain they're palm oil free, it's best to avoid more exotic flavors such as chocolate, cheese, and coated varieties.
Oftentimes, holiday varieties of popcorn contain palm oil.
Ask before buying popcorn at movie theaters, sports events, stadiums, and events. They may contain coconut oil but often are made with palm oil and palm oil ingredients.
It's important to know, many popcorn brands and flavors contain palm oil derivatives that won't have the word "palm" in the ingredients.
Common Palm Oil Ingredients in Popcorn
Palm oil
Palm kernel oil
Medium chain triglycerides
Tocopherols
Learn how to find palm oil free products. It's also helpful to learn the ways companies use palm oil so you know what types of foods contain it.
Please support these choices of palm oil free popcorn. To the best of our knowledge, these do not contain palm oil ingredients. However, this list is not guaranteed. None of these popcorns are certified Palm Oil Free.
Support products with Palm Oil Free certified labeling. Two companies which certify are Orangutan Alliance and the Palm Oil Free Certification Trademark Programme.
Popcorn without Palm Oil
Skinny Pop
Original
Sea Salt & Pepper
Naturally Sweet
Sea Salt Mini Cakes
Salted Caramel Mini Cakes
Cinnamon & Sugar Mini Cakes
Popcorn review: We buy Skinny Pop Original a lot. It's a great snack for home and on the road. It only contains Popcorn, Sunflower Oil, and Salt.
The Skinny Pop Mini Cakes are amazing. They are a fun way to eat popcorn in a small version of a rice cake. They are excellent for lunchboxes and snacks.
We regularly buy the Sea Salt, Salted Caramel, and Cinnamon & Sugar Mini Cakes. Sometimes we mix the Sea Salt with one of the other flavors for a sweet and salty mix.
We look forward to buying their other palm oil free flavors when we see them in our local stores.
Angie's Boom Chicka Pop
Sea Salt Popcorn
Sweet & Salty Kettle Corn
Light Kettle Corn
Salted Caramel Popcorn
Buttery Caramel Popcorn
Popcorn review: Ever since Costco started selling Angie's Sweet & Salty Kettle Corn, our family buys several bags monthly. My family and I love this popcorn.
It's unbelievably great — the perfect blend of sugar and salt. It's a convenient and healthy sweet treat for our family. This popcorn, made without palm oil, only contains Popcorn, Sunflower Oil, Cane Sugar, and Sea Salt.
We've also had Angie's Sea Salt Popcorn, which is also delicious.
Which Angie's popcorn flavors contain palm oil? Some of their specialty seasonal flavors, like Candy Corn flavored Kettle Corn and Pumpkin Spice Kettle Corn, contain palm oil and palm kernel oil. Another holiday version, White Chocolate & Peppermint Flavored Drizzled Kettle Corn contains palm kernel oil.
I avoid the holiday flavors of popcorn, other snacks, and candy. They typically have lots of ingredients and often include palm oil.
Lesser Evil Buddha Bowl
Classic Cheddah
Himalayan Pink
Oh My Ghee!
Himalayan Sweetness
Jalapeno 'n Honey
Avocado-Licious
Himalayan Gold
Popcorn review: Look at these flavors! Lesser Evil doesn't use any palm oil in their popcorn and other snacks.
Their organic popcorn uses quality ingredients. Depending on the flavor, some ingredients include Himalayan salt, organic extra-virgin coconut oil, and/or extra-virgin avocado oil.
O Organics Popcorn
Sea Salt
Sea Salt & Olive Oil
Popcorn review: I often buy the O Organics Sea Salt Popcorn when it's on sale at Safeway, my local grocery store. It's delicious. I love being able to buy organic popcorn for the same price as non-organic (when it's on sale).
I haven't tried their Sea Salt & Olive Oil but would trust it given the Sea Salt has been fine for my son. The ingredients in the organic Sea Salt & Olive Oil Popcorn are: Organic Popcorn, Organic Extra Virgin Olive Oil, Sea Salt.
Popcornopolis
Nearly Naked Popcorn
Caramel Corn
Kettle Corn
Popcorn review: We enjoy the large bag of Popcornopolis's Nearly Naked Popcorn when we see it at Costco. Unfortunately, it's not always available. We buy it when it is.
This popcorn is delicious and very flavorful. There are few kernels at the bottom of the bag. My kids, husband and I all love it.
Popcornopolis DOES NOT INCLUDE their ingredients on their website. Because they aren't listed, and we aren't able to find all of their flavors in stores, we can't cross-reference their ingredients to check for palm oil.
We were only able to verify the ones above. Their website says all their popcorn is popped in coconut oil.
Before buying, you must be aware of what makes up the flavors. Choosing more basic flavors such as Cheddar will likely have less chance of palm oil than a flavor with icing and a long list of ingredients such as their Unicorn, Cookies & Cream, and Holiday Cookie.
Simple Truth
Organic Sea Salt & Black Pepper Popcorn
Kettle Popcorn
Organic Low Sodium Popcorn
Popcorn review: We've tried Simple Truth Organic Low Sodium Popcorn and love it. This is also something we purchase when we are on road trips and going to friends' homes.
Simple Truth is a Kroger brand, with organic and non-organic lines. While it's not available everywhere, we were able to purchase this popcorn at Kroger-owned stores.
Smart Food
Popcorn review: We like their Smart50 Sea Salt Popcorn and believe it to be palm oil free. My son, who has a palm oil allergy, safely loves it. We haven't tried their other varieties, some of which may be okay for him.
Smart Food transparently lists their ingredients on their website. Read labels. Some of their flavors include Medium Chain Triglycerides which can be made from palm oil.
Buttered Popcorn Flavors
When you are looking for palm oil free popcorn, you need to carefully read the labels for buttered popcorn.
Many times, you will see ingredients such as Tocopherols, and/or Medium Chain Triglycerides. These typically contain palm oil.
Microwave Popcorn Contains Palm Oil
Remember, you must avoid microwave popcorn unless you buy this one brand from Quinn as explained below. Otherwise, every single brand we researched contains palm oil or palm kernel oil.
If you look at the ingredients in stores, you will see this for yourself.
Microwave Popcorn without Palm Oil
Quinn Snacks Microwave Popcorn
Aged Parmesan & Rosemary
Real Butter & Sea Salt
White Cheddar & Sea Salt
Vermont Maple Kettle Corn
Just Sea Salt
We are grateful to Quinn Snacks for being so innovative with their microwave popcorn. We appreciate them using such quality ingredients.
Be sure sure read labels and buy the ones above. Their Real Movie Theater Butter contains organic red palm oil. Note it is organic, fair trade and sustainable. However, we avoid all palm oil.
Pre-Made Popcorn at Events
Palm oil is cheap. That's why companies use it. If you are at the movie theater or sports venue, etc., you will have to ask about the ingredients.
We usually avoid it unless we speak to the manager. It might contain palm oil. Additionally, it is likely to contain many artificial ingredients.
Make Homemade Popcorn Palm Free
While at home, you can make homemade popcorn. It's easy and doesn't take long, especially if you have an air popper. Then, you can add your own salt, real butter, cheese or caramel creations, knowing exactly what it is.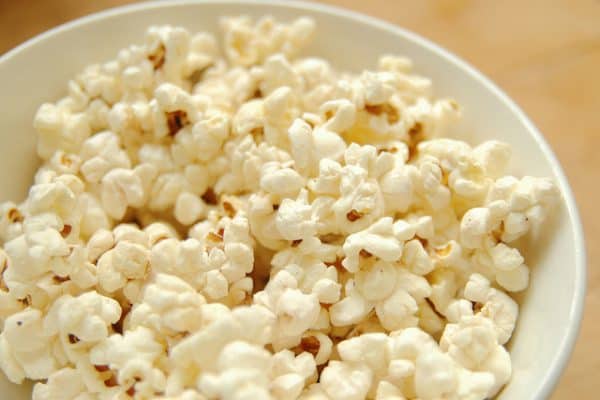 We use a Hamilton Beach Hot Air Popcorn Popper. It's simple enough for my kids to use, fast, and pops practically all the kernels.
Best oil for popcorn
Extra virgin olive oil, sunflower oil, and coconut oil make for tasty popcorn.
Butter for popcorn
If you want to add butter, be sure to use real butter and not margarine or imitation butters, all of which contain palm oil. Many vegan butters contain palm oil.
Palm Oil Free Popcorn
Popcorn is a healthy snack. Plain, it's low in calories and fun to eat. Popcorn kernels are ideal pantry staples. Popping it at home is more eco-friendly and also less expensive than buying pre-popped popcorn.
When you are at the store, just remember to read all labels. Look for simple ingredients such as popcorn, coconut oil, and salt so you know what you are getting.
Many times, the label won't spell out "palm oil" but it still may contain palm oil derivatives.
We have reached out to these companies to confirm their popcorn is made without palm oil. We continue to update with post as companies return our emails.
Please support these flavors of popcorn without palm oil, palm kernel oil, and palm oil ingredients such as Tocopherols and Medium Chain Triglycerides. Let companies know you want products without it.
See our post which lists Palm Oil Free Products in different categories.
See related:
See the palm oil free foods list my son eats when living palm oil free. Due to his palm oil intolerance, we rely on popcorn a lot for an easy snack.
Know that while we work very hard to live without palm oil, we aren't food scientists or medical professionals. We gathered this information by researching popcorn in stores and online; reaching out to manufacturers; and learning all we can about the names for palm oil. Please always read ingredient labels when you are looking for popcorn without palm oil.
This list is meant for reference only and isn't guaranteed. It's important to know the SOURCE OF EACH INGREDIENT. Also, palm oil can hide in "Natural Flavors."
By encouraging companies to become Palm Oil Free certified, consumers will know which products are truly palm oil free. Read more about the International Palm Oil Free Certification Trademark Programme which is approved in 20+ countries, including the United States.
If you know of other brands, please let us know in the Comments. Why do you avoid palm oil? It it getting harder to find palm oil free options?