Over-the-counter medicine without palm oil is difficult to find. Palm oil derivatives are common in capsules, tablets, pills and liquid medications.
We seek out palm oil free medications because our son has negative reactions to palm oil. We consider him to have a palm oil allergy and palm oil intolerance. In the past, we didn't realize the antihistamines and other medications were making him worse due to the palm oil derivatives in them.
He would get sore throats. Some of them would lead to longer illnesses.
Palm oil derivatives are most always in vitamins, minerals, and supplements. They are in pills, tablets, capsules, gummies, and liquid forms.
Palm oil free medication
Recently, we found a palm oil free solution for antihistamines, allergy medications, fever reducers, etc. We have these over-the-counter (OTC) medications without palm oil.
Please note, this is not medical advice. Discuss with your healthcare provider what medications you should take. Here we are sharing our experience. This is the way we were able to acquire palm oil free medicine.
Medicine without palm oil
First, it's important to know some of the common palm oil derivatives in medications. They include:
Calcium Stearate
Glycerin
Magnesium Stearate
Medium Chain Triglycerides
Polyethylene Glycol
Polysorbate 80
Propylene Glycol
Stearic Acid
Read the labels for the vitamins, supplements, and medications in your home.
Chances are, you will see at least one of these ingredients listed on each bottle or package because there are many palm oil uses in medicines.
Propylene Glycol in medicine
Ingredients such as Propylene Glycol keeps liquid medications shelf-stable.
Magnesium Stearate and Calcium Stearate in medicines
Manufacturers use stearates such as Magnesium Stearate to help lubricate capsules and tablets. Also, stearates help ensure the tablets don't stick to the machine.
Polysorbate 80 in medicines
Polysorbate 80 helps bind ingredients together and to improve the consistency in gel caps. There are many other reasons as well, including using them as stabilizers and fillers.
Using a compounding pharmacy
If you have a compounding pharmacy in your area, you may be able to get medicine without palm oil. You will need a prescription from your doctor.
First, know what OTC medications you are trying to replace. Next, call the compounding pharmacy to ask if they have the active ingredient available.
Ask the compounding pharmacy for approximate pricing before you call your doctor's office to ask for a prescription.
Most likely, the compounding pharmacy will not accept health insurance. Therefore, you will be paying for the medication out of pocket. It's important for you to know the charges before you order the medicine.
Find out as much as you can before you call the doctor's office to minimize questions later.
Read below to learn our experience buying four compounded prescriptions without palm oil:
Pain medication in the form of Ibuprofen
Cough medicine
Two antihistamines (Claritin equivalent and Benadryl equivalent)
Pain medication without palm oil
We didn't realize the OTC children's liquid Ibuprofen we were giving our son had palm oil derivatives.
We wanted a palm free option on hand to be able to give him for fevers or pain relief. Because every label we read in the stores contained palm oil derivatives, we called a compounding pharmacy.
We asked if we could have the Ibuprofen itself — the active ingredient in these OTC medicines — in some form.
The person at the compounding pharmacy said we could with a prescription from our physician. They explained if it was a liquid, it would only last for 30 days (without the palm oil derivative-type of ingredients such as Propylene Glycol).
In order for it to be shelf-stable longer than 30 days, we asked about them making it into a capsule form.
After speaking with the compounding representative, I called my son's pediatrician's office. I explained what I wanted.
The doctor was able to write and prescribe 400 mg of Ibuprofen in capsule form with additional notation on the prescription to include "hypoallergenic medicine." The doctor added "not to include Propylene Glycol and Magnesium Stearate."
We now have 90 capsules, each with 400 mg of Ibuprofen, to have as the need arises.
The receipt / label states: 90 CAP IBUPROFEN (NO FILLER) (VEGGIE) 400MG CAPSULE
Talk to the pharmacist
It's essential you talk to the pharmacist once he/she has the prescription from your doctor. Our compounding pharmacist called us after she received it.
You have to clarify what the pharmacy will make the capsule with.
Originally, when I spoke with the rep, she said it would be derived from pine bark.
Upon pressing further in the conversation with the pharmacist, I learned the capsules would contain Sodium Lauryl Sulfate as well. Sodium Lauryl Sulfate is often made from palm oil.
After much consulting with the pharmacist, they were able to make it without Sodium Lauryl Sulfate.
(Note, I should have asked the doctor to include "no Sodium Lauryl Sulfate" on our other prescriptions. This is something you may want to do. If you don't, remember to tell them you don't want Sodium Lauryl Sulfate in the medication.)
Again, this is not medical advice. At the store, the pharmacist said to be sure we give him food when we give him Ibuprofen (adults too). She suggested a banana or yogurt, even if it was at night. She said the medicine is hard on the stomach.
Cough medicine without palm oil
During the calls for the Ibuprofen, with the compounding pharmacy and doctor, I also asked for a palm oil free cough suppressant medicine.
The doctor wrote a prescription for Dextromethorphan. They didn't have it in stock and had to order it. The minimum they would fill was 90 capsules.
Based on my son's age and weight, the doctor prescribed 30 mg capsules.
I picked up the Ibuprofen and asked about the capsule for the cough medicine. The representative again assured me it would be made from pine bark.
After I pressed further, she said they would need to add a filler because each capsule was only 30 mg. It was too small an amount to fill with only the Dextromethorphan. If they did it by hand, it would be time-consuming and cost more.
After discussing the options, we agreed upon baking soda, Sodium Bicarbonate, as the filler.
The label reads: DEXTROMETHORPHAN HBR (SOD BICARB-VEGGIE) 30 MG
We are very relieved to have these medicines on hand for the times our son is sick.
Update: I am happy to report the Ibuprofen and cough medicine both relieved his symptoms and didn't cause additional problems and reactions as medications have in the past.
It is a huge relief to have these allergy medications as well as the OTC pain and cough medicines.
Antihistamines without palm oil
A week after we picked up the above medicines, I ordered allergy medications.
The OTC children's liquid allergy medications we had in our medicine cabinet all had what-seemed-to-be palm oil derivatives in them. When my son took these medications, he would get a sore throat.
(The companies have yet to respond to my email inquiries asking them to confirm if the ingredients in question are derived from palm oil.)
Benadryl equivalent
First, I wanted a stripped-down Benadryl equivalent. The active ingredient in Benadryl is Diphenhydramine, a histamine-blocker.
Allegra equivalent
Second, I wanted an OTC allergy medication for typical allergy symptoms. I was hoping to get the active ingredient in Allegra. We had never used Zyrtec or Claritin.
I called the same compounding pharmacy I used to get the Ibuprofen and cough medicine to ask if I could get these antihistamines. They had the active ingredient in Benadryl which they could make for me with a prescription.
However, they were unable to get Fexofenadine, the name of the active ingredient in Allegra. The pharmacy rep said they could use the active ingredient in Zyrtec which is Cetirizin. She explained, however, "it would be expensive," and dissuaded me from it.
She needed to verify and call me back to see if they could get Loratadine, the active ingredient in Claritin.
Calling another compounding pharmacy
While I was waiting, I called another compounding pharmacy in our area. This second compounding pharmacy had the Benadryl equivalent, Diphenhydramine, in stock.
They too were unable to get the Fexofenadine. However, they did have the Claritin equivalent, Loratadine, in stock.
From this second pharmacy, I was able to acquire these antihistamines without palm oil.
I phoned my son's pediatrician's office and explained exactly what I wanted in the form of these two medications. The pediatrician called me back. He was able to write the prescription like he did for the other two medications.
When the pharmacist had the prescriptions, he called me to clarify and confirm what I wanted. We had a detailed conversation to ensure there wouldn't be any palm oil derivatives in the capsules or as fillers.
The labels read:
DIPHENHYDRAMINE (DYE/LACTOSE FREE) 25 MG CAP
LORATADINE (DYE/LACTOSE FREE) 10 MG CAP
Now with four common OTC medications being palm oil free, we feel much better about giving these to our son when it's necessary.
Cough drops without palm oil
Typically, the cheaper the cough drop, the more likely it contains palm oil.
Many store brand cough drops include these palm oil derivatives:
Glycerin
Medium Chain Triglycerides
Name brand cough drops often contain Glycerin.
Unless you contact the company directly to ask them the SOURCE of these ingredients, you won't know if they are derived from palm oil.
However, generally, companies are looking for inexpensive ingredients, and palm oil is cheap.
We have not yet researched cough drops without palm oil. However, a brand to consider may be Halls Cough Drops. If you are at the store, you may want to keep this brand in mind.
We found these cough drops without Glycerin or Medium Chain Triglycerides and use them exclusively:
Young Living Essential Oils Thieves Cough Drops
The active ingredient is 8 mg of menthol.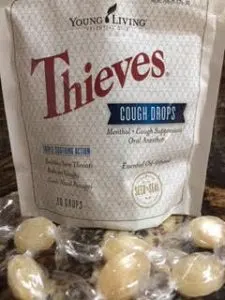 Ingredients include 100% pure, therapeutic-grade essential oils. Also, they are free from preservatives, dyes, artificial flavors, and sugar.
Relieve nasal symptoms
A medicine-free palm oil free alternative to help clear nasal passages is a nasal wash.
You can try a neti pot.
My son uses [easyazon_link keywords="Dr. Hana's Nasopure Nasal Wash System Kit" locale="US" tag="palmoil0f-20″]Dr. Hana's Nasopure Nasal Wash System Kit[/easyazon_link].
The box says it helps to manage and relieve symptoms associated with cold, flu, allergies, sinusitis, and rhinitis.
My son uses this nasal wash, and it works wonders clearing him out.
Talk to your doctor
If you are seeking medicine without palm oil, it's important to speak with your doctor. Most medications contain fillers, lubricants, stabilizers, emulsifiers, and more.
In order to get a "stripped down" version, you will most likely need to go to a compounding pharmacy.
Talk with your doctor about options for medicines.
For us in our situation, it's been reassuring to know we can give our son these palm oil free medications when he needs them.
See what foods our son can safely eat and personal care products he can safely use with a palm oil intolerance. These are items we use which help us to shop, cook, clean, and organize to help us avoid palm oil.
Many people avoid palm oil due to the environmental issues. Some are concerned with the health aspects of palm oil.
Once you know names for palm oil derivatives, it may surprise you to learn how prevalent palm oil is in everyday products.
Read labels. Be an educated consumer. See our palm oil free products list and support them when you shop. Even if you can't go completely palm oil free, there are ways to use less palm oil.
What's in your medicine? Please leave a note in the Comments.