When you are looking for deodorant without palm oil, choose the ones with as few ingredients as possible.
In deodorant, palm oil ingredients are hidden under many names. They are prevalent in spray, wipe, and stick deodorants as well as antiperspirants.
Palm oil ingredients in deodorant
Common palm oil derivatives in deodorant include:
Caprylic/Capric Triglyceride
Ceteareth-25
Cetyl Palmitate
Elaeis guineensis
Ethylhexyl
Glycerin
Glyceryl Stearate
Octyldodecanol
Palmitate
Palm Kernel Oil
Polyethylene Glycol
Propylene Glycol
Sodium Stearate
Steareth – 100
Stearic Acid
Stearyl Alcohol
Tocopherols without the source listed
Triglycerides
Vitamin E without the source
Deodorant without palm oil
It is possible to find deodorant free from palm oil derivatives. All of these companies show their ingredients easily and transparently on their websites. They have nothing to hide!
Please note, this list is not guaranteed. We reached out to companies to confirm and cross-referenced their ingredients against hundreds of names of palm oil derivatives.
To be certain deodorant or any products are palm oil free, they should be certified Palm Oil Free by the International Palm Oil Free Certification Trademark Programme or Orangutan Alliance.
Use this as a starting point, and check these out: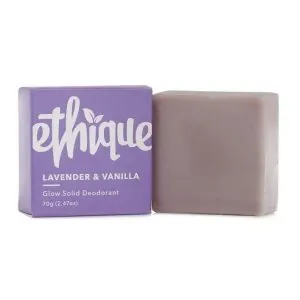 Ethique
Sans – Unscented Solid Deodorant
Botantica – Lavender & Vanilla
Rustic – Lime, Eucayptus, & Cedarwood
Ethique confirmed all of their products, including deodorants, are palm oil free.
This is one of the few companies who advertises each of their products as "palm oil free" on their website. They are cruelty-free, sustainable and vegan as well. They are a zero-waste company who doesn't use plastic. Their products and packaging are 100% biodegradable.
Ethique's deodorants are for all skin types. They are made with bamboo and zinc oxide. They are free from aluminum and baking soda.
We also like they have an Ingredients section on their website which explains the source of each of their ingredients. Many ingredients specifically state they are not sourced from palm oil.
Fat and the Moon
Deodorant Cream
Lil' Deodorant Cream
Sensitive Pit Cream
Lil' Sensitive Pit Cream
Fat and the Moon confirmed their vast array of products are all palm oil free. Most of the ingredients in these deodorants are organic.
Deodorant Cream and Lil' Deodorant Cream
Deodorant Cream comes in 2 oz and 6 oz while their Lil' Deodorant Cream is available in a .5 oz tin.
These creams are made with coconut oil and baking soda. The baking soda is aluminum free.
Additional ingredients include arrowroot starch, beeswax, essential oils of black pepper, clary sage, bergamot, tea tree and grapefruit.
Sensitive Pit Cream and Lil' Sensitive Pit Cream
Their Sensitive Pit Creams are free from baking soda.
These are made with coconut oil, arrowroot starch, magnesium hydroxide (milk of magnesia), beeswax, essential oils of basil, and vetiver.
Schmidt's
Deodorant Sticks:
Bergamot + Lime
Cedarwood + Juniper
Charcoal + Magnesium
Fragrance Free
Lavender + Sage
Lily of the Valley
Moon Flower
Rose + Vanilla
Waves
Ylang – Ylang + Calendula
Sensitive Skin Deodorant Sticks:
Fragrance Free
Coconut Pineapple
Geranium Flower
Jasmine Tea
Lavender Tips
Lily of the Valley
Tea Tree
Schmidt's deodorants are certified vegan and cruelty free. Also, they are free from aluminum, parabens, phthalates, propylene glycol, and artificial fragrances.
Their regular deodorants contain Sodium Bicarbonate (baking soda). Their Sensitive Skin deodorants do not.
If you look on their website, you will see they show the source of each ingredient. For example:
Caprylic/Capric Triglyceride (fractionated coconut oil)
Tocopherol (vitamin E; sunflower-derived)
If you were to see these ingredients — without their source listed — in other deodorants, they will often be sourced from palm oil.
My son, who has allergic reactions from personal care products and foods with palm oil, uses Schmidt's unscented, Fragrance Free deodorant as well as the Bergamot & Lime.
See the personal care products he uses with a palm oil intolerance.
It's easy to apply and gets the job done. Their sticks are 3.25 ounces.
I was thrilled to see Schmidt's deodorant is available at our local Target and Walmart! This makes it convenient for the Everyday Consumer to purchase deodorant without palm oil derivatives on their labels.
Booda Organics
Booda Butter Cream Deodorant
This is a cream deodorant. We found this at our natural grocer. Also, you can look online for locations in your area or purchase it online from their site.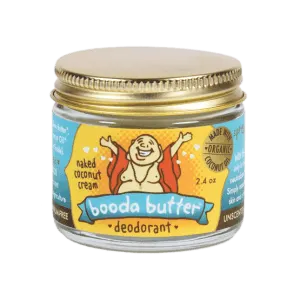 Booda Organics confirmed all of their products are palm oil free.
This handmade cream deodorant is Non-GMO verified, Cruelty-Free, and Vegan. It's also soy, bee, wax, and gluten free.
It's free from propylene glycol, aluminum, alcohol, phthalates and parabens, sulfates, chemicals and synthetics.
This deodorant contains Pure Baking Soda, Organic & Fair Trade Certified Shea Butter, Organic Tapioca Flour, Organic & Fair Trade Certified Virgin Coconut Oil, Organic & Fair Trade Certified Cocoa Butter.
This cream deodorant is 2.4 ounces. A little goes a long way.
They explain on their website you could also use this for bug bites and bee stings.
Food Grade Organic Natural Deodorant Kids
This is roll on deodorant. We ordered it online for our kids. They prefer solid blocks and stick deodorants so while we tried it, we didn't repurchase.
Certified palm oil free deodorant
Earth Sense Organic
Organic Natural Deodorant:
Earth Sense Organic is a French company.
In addition to not having aluminium and other heavy metals, Earth Sense Organic's Natural Deodorants are certified Palm Oil Free by the International Palm Oil Free Certification Trademark (POFCAP).
Make your own deodorant
An even better alternative is to make your own deodorant. You can make it palm oil free by using this recipe. Once you get the ingredients, it's easy to make DIY deodorant.
Palm oil free deodorant and antiperspirant
Know that many of the name-brand deodorants, even those advertising aluminum-free and propylene glycol free, most likely contain palm oil.
Like with bar soap, you will have a better chance finding a stick or bar type of deodorant without palm oil than finding it as a spray or wipe.
Use this list to make it easy to find. Remember, read labels.
Here's how to use less palm oil each week.
These are many common palm oil derivatives you will find in deodorants and antiperspirants. If you know of other palm oil free deodorants, please list them in the Comments.
See related:
Please note, this list is meant to be a starting point as a reference and isn't guaranteed. Please read labels as manufacturers change ingredients. Support Palm Oil Free labeling.
Support companies who make palm oil free deodorant and be loyal to them. See our list of palm oil free products.
Please let us know in the Comments why you seek out deodorant without any palm oil ingredients.