Updated:
When you look for sunscreen without palm oil, you typically won't see 'palm oil' in the ingredients. Most are in the form of palm oil derivatives.
Sunscreen lotions, creams, balms and sprays typically contain palm oil in some form.
Here are some common ways palm oil may be hiding in your sunscreen — even in healthy-seeming labels or more expensive brands:
Calcium Stearate
Caprylic/Capric Triglyceride
Capryl Glycol
Caprylyl Glycol
Cetearyl Alcohol
Cocoglucoside
Glycerin
Glyceryl Caprylate
Isostearic Acid
Retinyl Palmitate
Sodium Stearoyl Glutamate
Stearic Acid
Tocopherol
Vegetable Glycerin
Vitamin A Palmitate
Vitamin E and Vitamin E Tocopherol
Get ready for summer!
We've confirmed with these companies these sunscreens are palm oil free.
Sunscreen Without Palm Oil
W.S. Badger Co.
They have confirmed these sunscreens are free from palm oil derivatives.
Sunscreen lotions and creams without palm oil:
Clear Zinc Unscented Sunscreen SPF 30
Clear Zinc Sport Sunscreen Unscented SPF 35
Tinted Sunscreen Unscented SPF 30
Unscented Sunscreen SPF 15
Lavender Sunscreen SPF 30
Sunscreen Bug Repellent
Kids Sunscreen SPF 30
Baby Sunscreen SPF 30
Clear Zinc Sport Sunscreen SPF 40
Sport Sunscreen SPF 35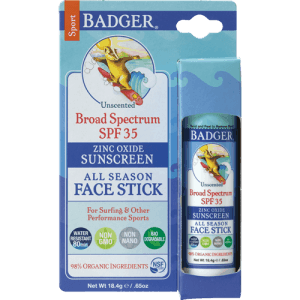 Sunscreen sticks without palm oil:
Sport Sunscreen Stick SPF 35
Kids Sport Sunscreen Stick SPF 35
Other palm free sun care products:
After Sun Balm Organic Skin Moisturizer
Clear Zinc Sunscreen Lip Balm SPF 15
Read labels and choose one of these palm oil free sunscreens from Badger. (Note, their SPF 25 lotions contain it.)
Empire Squid
They have confirmed all of their products, including their sunscreens, are palm oil free.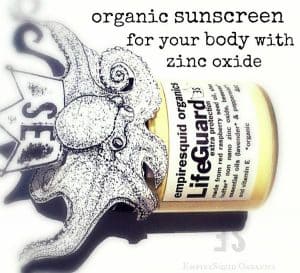 LifeGuard:

Facial Sunscreen
Organic Sunscreen – available with beeswax or vegan
Sunscreen with Red Raspberry
These are available in Original or Extra Protection. They contain zinc oxide.
The Vitamin E in these sunscreens are palm oil free and made with non-GMO soy and sunflower oil.
Sun Set After Sun Spray – contains aloe vera and zero preservatives
Kiss My Face
They have confirmed they make these two sunscreens without palm oil.
Kiss My Face Organics Kids Defense Mineral SPF 30 Sunscreen Lotion
Kiss My Face Organics Mineral

Face 

+ Body SPF 30 Sunscreen Lotion
Palm oil free sunscreen
It's a good idea to wear sunscreen in the summer, on vacations, and when you will be outside for awhile. More people use sunscreen on sunny days in the spring and fall as well.
It's really important to read labels for sunscreen. We have searched most every commercial brand, and they all contained some type of palm oil derivative. Oftentimes, they contained more than one.
Plant-derived often = palm oil
If you look on many sunscreen companies' websites (and many products in general), companies often describe their ingredients as plant-based or plant-derived. If they aren't explaining the source — Which plant?! — it's often likely from palm oil.
Watch out for industry buzzwords.

Many companies who tout "plant-derived," "natural", "vegan", and "organic" may still be using palm oil derivatives in their sunscreens.
Please support these sunscreens without palm oil.
Read labels. Learn how companies use palm oil so you know what to watch for. There are hundreds of names for palm oil derivatives. Print this list for a reference.
You may be learning how prevalent palm oil is in self-care products. Check out these posts:
Remember to read labels as companies change ingredients. This list is meant to be a starting point as a reference to help find sunscreen without palm oil.
Let us know why you choose sunscreen without palm oil. If you know of palm free sunscreens, please list them in the Comments. Thank you for being an Educated Consumer.