We were unable to find fluorinated toothpaste in the United States that's palm oil free. However, we were able to find fluoride-free palm oil free toothpaste that was certified Palm Oil Free.
While you usually won't see "palm oil" on ingredient labels, it's usually present in the form of derivatives such as Glycerin, Propylene Glycol, SLS, and more. Manufacturers often use palm oil for sweetening and foaming in toothpaste.
Even natural, vegan, and healthy-looking toothpaste brands typically contain palm oil in some form. Toothpaste companies may advertise "Coconut Oil" but when you read the ingredients, you will find several palm oil derivatives as well.
Please note, I am not suggesting you do not use fluoride toothpaste. My purpose for writing this is to explain which toothpastes do not contain palm oil, and to point out how in the United States, all the fluorinated toothpastes contain palm oil.
Eco-friendly toothpaste
Most toothpaste brands use palm oil. We've checked dozens of toothpaste ingredient labels, and even in health food stores, they are hard to find. If you are looking for natural toothpaste, it should be eco-friendly as well.
Palm oil in toothpaste
See below for the ways palm oil ingredients are hiding in toothpaste. Some common palm oil ingredients to watch out for in toothpaste include:
Glycerin (You will see this in most toothpaste brands.)
Sodium Cocoyl Glutamate
Cocamidopropyl Betaine
Sodium Lauryl Sulfate and SLS
Sodium Lauroyl Glutamate
Lauryl Glucoside
Propylene Glycol
Sodium Methyl Cocoyl Taurate
Sodium Stearate
Steareth-30
If the source isn't listed, it's typically from palm oil.
Glycerin, Cocamidopropyl Betaine, and Sodium Cocoyl Glutamate are very common in natural-seeming toothpaste.
Palm oil free toothpaste
Please note, our information comes from the product manufacturers. Certified Palm Oil Free labeling from Orangutan Alliance or from the Palm Oil Free Certification Trademark (POFCAP) is the only way to determine products are 100% palm oil free.
The two toothpaste brands that have certified their toothpaste palm oil free are Grin Natural Toothpaste and Bite Toothpaste Bits.
Grin Natural Toothpaste
Grin Natural is certified Palm Oil Free by Orangutan Alliance. This means each of their toothpaste ingredients was traced down to the source. Because they are certified palm oil free, this means you don't have to worry and wonder about hidden palm oil derivatives.
Grin Natural palm oil free toothpaste without fluoride:
Whitening Toothpaste Fluoride-Free
Strengthening Toothpaste Fluoride-Free
Freshening Cool Mint Toothpaste Fluoride-Free
Freshening Cool Mint Travel Toothpaste Fluoride-Free
Kids' Strawberry Fluoride-Free
Kids' Orange Fluoride-Free
They spell out the source of their ingredients on their website. The Glycerine they use is from soybean and/or rapeseed, not from palm oil. The Lauryl Glucoside is from coconut, not palm oil.
In addition, their toothpastes are free from Sodium Lauryl Sulfate (SLS), Propylene Glycol, Parabens, and Hydrogen Peroxide. They don't contain artificial sugars, colors, preservatives, flavors, or fragrances.
You can buy this palm oil free toothpaste if you live in the United States (and likely elsewhere in the world) easily from their website. They offer free shipping with a minimum purchase. (We purchased one tube and received free shipping.)
Update: Grin Naturals is now on Amazon as well.
In New Zealand, you can purchase their palm oil free fluorinated toothpastes as well. We are eagerly awaiting for this to be available again in the United States.
They also make biodegradable toothbrushes and biodegradable dental floss, flossers, and picks. If you purchase a 3-pack, you will receive free travel size toothpaste.
Bite Toothpaste Bits
This is another natural toothpaste. Fresh Mint Bite Toothpaste Bits WITHOUT FLUORIDE are natural, palm oil free, and environmentally friendly. It was certified Palm Oil Free by Orangutan Alliance. Years ago, they were on the television program, Shark Tank.
Bite Toothpaste Bits are an eco-friendly toothpaste option. Bite Toothpaste Bits contain coconut oil instead of palm oil. It's in the form of Sodium Cocoyl Isethionate which helps create foam and helps clean teeth.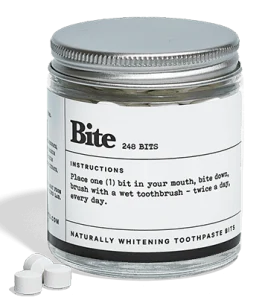 Instead of squeezing out the toothpaste from a throwaway tube, Bite Toothpaste comes in Bits. You place a toothpaste bit in your mouth, and use a wet toothbrush to brush your teeth.
Fresh Mint (without fluoride)
Mint with Activated Charcoal (without fluoride)
Update: Their Berry Twist (geared toward kids) and Mouthwash Bits also were palm oil free; however, I no longer see these products on their website.
We ordered Bite Toothpaste Bits because we needed a toothpaste to strengthen enamel.
Non-fluorinated Bite Toothpaste Bits contain Nano-hydroxyapatite (nHAp). According to Bite's website, nHAp is a mineral that's been proven to strengthen and restore teeth and is a non-toxic fluoride alternative.
In addition to being sustainable and made without palm oil, Bite Toothpaste Bits come in reusable and refillable glass jars. This makes it a zero waste toothpaste. You can buy it on their website and on Amazon.
Zero waste toothpaste
When you order additional Bits, you reuse and refill the glass jar. This eliminates plastic waste. In addition, their refills come in compostable pouches. They don't use any plastic.
In addition to certifying their fluoride-free toothpaste tablets palm oil free, they are cruelty-free. Their ingredients are vegan-friendly.
Eco-friendly toothbrush
Bite Toothpaste Bits makes eco-friendly toothbrushes. They are made from bamboo. What's unique about them is the brushes have a detachable head so you can change out the top and reuse the bottom. This company practices sustainability through and through.
A Note About Bite Toothpaste Bits With Fluoride
Bite added a fluorinated toothpaste to their product offerings in April 2022. It contains palm oil in the form of Magnesium Stearate. However, I must note that Bite toothpaste/bits, even with the palm oil, contains less chemicals and ingredients than the big toothpaste brands (Colgate, Crest, Sensodyne, Aquafresh, Aim, Close-Up, etc.).
If you avoid palm oil for environmental reasons, Bite does a lot to be environmentally friendly regarding their packaging. They are plastic-free.
I emailed to ask if their Bite with Fluoride was palm oil free. They wrote back which was fantastic (many companies do not).
Their response: "Our new Fluoride Bits do contain Palm Oil. Fluoride is considered an over the counter drug, and there are very strict protocols for what ingredients can and can't be used for certain functions.
Our Fluoride Bits contain Magnesium Stearate (a lubricant, flow agent) which is a single ingredient in our formula made up of many other ingredients including palm oil.
Due to Fluoride being an OTC, we can only use certain ingredients per FDA regulations, and we can't use the palm oil free lubricant that we use in nHap because it's not OTC certified."
Redmond Earth Paste
Redmond confirmed they make all of their toothpaste without palm oil: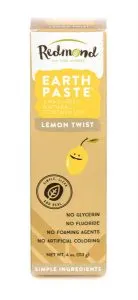 Cinnamon
Lemon Twist
Peppermint
Spearmint
Wintergreen
Earthpowder Peppermint with Charcoal
In addition to not containing palm oil derivatives, Earth Paste is free from foaming agents, artificial coloring and is fluoride free.
On a personal note, my son — who has an intolerance to palm oil and reacts to anything with palm oil in it — started using Earth Paste Lemon Twist, and it solved our issues.
Prior to finding this palm oil free toothpaste, he had really bad chapped lips, including the skin around his lips, for weeks. Within just days of using Earth Paste toothpaste, his lips completely healed.
Since using this brand of toothpaste, he hasn't had chapped lips, cracking on the sides of his lips/mouth, or any mouth-sore issues whatsoever. He used Earthpaste for over a year.
He has reactions to palm oil in foods, and we didn't realize it was also in personal care items, including toothpaste, soap, lip balm, etc.
Davids Best Natural Toothpaste
We were thrilled to find Davids Natural Toothpaste to change up my son's dental care routine. They've confirmed they make their toothpaste without palm oil.
When we first bought it, they only sold Peppermint. It's white and it is mint-flavored.
Since using for over a year, my son hasn't had any issues. My son has a palm oil allergy / intolerance and doesn't have reactions from the Peppermint. He hasn't tried the other Davids Natural Toothpaste flavors. In the United States, you can find Davids at Target.
Peppermint
Spearmint
Peppermint – Charcoal
Herbal Citrus – Peppermint
In addition, 98% of their ingredients are from the United States — in order to support American jobs — including their Glycerin which is derived from non-GMO soy.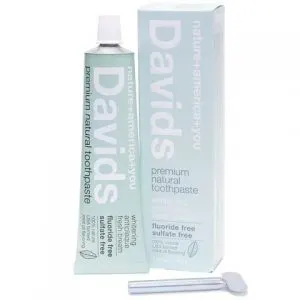 Davids Natural Toothpaste is free from sulfates, fluoride, artificial flavor, color & preservatives. Their toothpaste is vegan and cruelty free.
The carton is made from 100% wind power as well and is recyclable. They care about sustainability and the environment.
My son uses Davids Premium Natural Peppermint Toothpaste. He loves the taste and texture and that it feels like his teeth are clean.
Fat and the Moon
They confirmed these dental hygiene products are palm free.
Tooth Cleanse Anise & Clove
We also bought this palm oil free tooth cleaner. It's a liquid, not a paste.
My son uses Fat and the Moon's Tooth Cleanse occasionally to switch up his oral care. We are always happy when we find palm oil free products and love to try them. My son likes that it foams. He said it feels like his teeth are getting clean.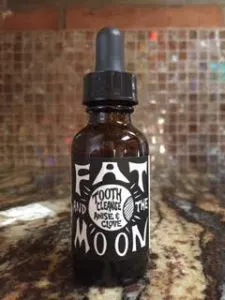 You only need 2-3 drops on your toothbrush. The bottle will last a long time.
This palm oil free toothpaste alternative is also fluoride-free. The ingredients are Castile Soap (Water, Organic Coconut Oil, Organic Sunflower Oil, Organic Castor Oil, Citric Acid, Rosemary Extract), Organic Myrrh Tincture, and Essential Oils of Organic Anise and Organic Clove.
Fat and the Moon Tooth Polish
They also offer a Tooth Polish for once-a-week use.
It's geared more toward adults to help prevent coffee stains, etc. This tooth polish is made without palm oil derivatives.
Toothpaste without palm oil
Most all toothpastes contain palm oil derivatives.
Most brands that advertise "natural" contain palm oil along with many chemicals.

Toothpastes which contain "coconut oil" will also list palm oil derivatives on their labels.
You will likely find more than one palm oil ingredient in toothpaste that are popular at Target, Walmart, Meijer, Walgreens, CVS, grocery stores, etc.
Toothpastes that don't contain palm oil typically don't foam. So if a toothpaste label says "no foaming agents," there's a better chance of it having less palm-based ingredients.
Also, you may have luck seeking out non-fluoride toothpaste. This is because toothpaste without fluoride often has less ingredients overall. We have been unable to find palm oil free toothpaste with fluoride in the United States.
Organic toothpaste
Don't assume just because you buy organic toothpaste that it's free from palm oil. You still have to read all ingredient labels. Many organic toothpastes contain Glycerin, Glycerine and other palm oil derivatives.
Vegan toothpaste / Cruelty-free toothpaste
Don't assume just because you buy vegan toothpaste or cruelty-free toothpaste that it's palm oil free. Read all of the ingredients before buying.
If they don't spell out the source of the Glycerin, Vegetable Glycerin, Cocamidopropyl Betaine, Sodium Cocoyl Glutamate
Check ingredient labels for Vegetable Glycerin or Glycerin (Plant-Based) without the source listed. Which vegetable? Which plant?

Oftentimes, companies are quick to spell out "Coconut" but you will rarely see they list "Palm Oil."
Sometimes on companies' master ingredient page on their websites, they may list out some — but usually not all — of their ingredients. If they do list "Palm" as one of their sources, it will be listed with other sources as well. Palm will be listed last as in: from coconut, soy, canola, palm.
Toothpaste without palm oil
At first, we went to Whole Foods and Trader Joe's, hoping to find toothpaste without palm oil. After reading all the ingredients, we thought we found two of them. After a week of trying each, my son still had extremely dry lips. I looked up the ingredients on both toothpastes and found out both had hidden palm oil derivatives.
Afterwards, I found Earth Paste at Natural Grocers, a natural grocery store, and it was a miracle for us. My son needs a palm free toothpaste, and this worked for him.
He's been alternating between the Lemon and the Peppermint but years, then started using Davids, and sometimes Grin Natural. We are really hoping for a toothpaste without palm oil that contains fluoride.
Chemicals in toothpaste
Many of the man-made chemicals you see on toothpaste labels contain palm oil. These are palm oil derivatives are common in eco-friendly brands:
Cocamidopropyl Betaine
Sodium Cocoyl Glutamate
Glycerin, Glycerine
Propylene Glycol
SLS free toothpaste
When a toothpaste advertises it is SLS free, that means it doesn't contain Sodium Lauryl Sulfate.
SLS is controversial for many reasons. For our purposes, we avoid products and toothpaste with SLS because it is often made with palm oil. Sodium Lauryl Sulfate is just one name for many surfactants in toothpaste.
You may see toothpaste brands advertise themselves as SLS free and assume they are palm oil free. Know this is not always the case.
Sodium Methyl Cocyl Taurate
Some SLS-free toothpastes use Sodium Methyl Cocyl Taurate instead of Sodium Lauryl Sulfate. Manufacturers consider this ingredient to be milder and less irritating; however, it is still a synthetic surfactant.
If you are looking for a toothpaste without palm oil, you will want to avoid both SLS and Sodium Methyl Cocyl Taurate.
According to the International Palm Oil Free Certification Accreditation Programme, like Sodium Lauryl Sulfate, Sodium Methyl Cocoyl Taurate is considered a palm oil derivative.
Palm oil free toothpaste
There are many uses for palm oil. Manufacturers use it in a multitude of ways, under hundreds of names. It's a versatile oil. In toothpaste, manufacturers use surfactants and foaming agents to clean. They also use humectants to retain moisture.
Many self-care products that are free from palm oil use coconut instead. However, if you see coconut on the label, it can still contain palm oil. Once you learn how to find products without palm oil and the names for palm oil, it gets much easier. Be loyal to products when you learn they are palm oil free.
DIY toothpaste
You can choose to make your own toothpaste without palm oil as well. There are many homemade toothpaste recipes you can use. Most of them use baking soda and essential oils.
Most homemade toothpaste recipes call for:
Baking soda
Calcium carbonate
Coconut oil
Peppermint essential oil (not recommended)
One of the advantages to homemade toothpaste is you can omit Glycerin which is a soap that alters the oral microbiome. In addition, while many DIY toothpaste recipes include essential oils, many have anti-bacterial properties which can alter the good bacteria in the mouth.
Homemade toothpaste recipe
Recipe adapted from askthedentist.com:
Ingredients:
Baking soda:

1/2 teaspoon

Calcium carbonate:

4 tablespoon

s
Cold-pressed organic coconut oil (melted):

1 teaspoon

Distilled water:

2.5 teaspoons

Anise essential oil (this essential oil is good for the mouth):

1 – 2

drops
If for kids, add: Xylitol (2 tablespoons plus 1 additional teaspoon)
Other materials:
Small bowl or glass to melt coconut oil
Small bowl
Spoon
Bottle or container to store toothpaste; glass preferred
Steps:
Melt coconut oil in microwave for 7 – 10 seconds
In a small bowl, add baking soda, calcium carbonate, and Xylitol (optional) and mix
Add distilled water and mix
Add melted coconut oil and mix
Drop in anise essential oil; continue mixing
Once it's smooth, add to jar and seal
It can remain on counter for 5-7 days. Leave that amount out and store the remainder in the refrigerator.
Most homemade recipes use baking soda. Some also use food-grade calcium carbonate powder.
Earth-friendly toothpaste
As the demand for palm oil increases, so does deforestation. Developers clear rain forests to create palm oil plantations. This affects native people, plant species and wildlife, all of whom make their homes in rain forests. In addition, rain forests benefit our world as they improve the air and affect climate.
Many consumers seek earth-friendly toothpaste. Choosing one above or making your own toothpaste is a natural way to avoid palm oil and be sustainable.
Does toothpaste contain palm oil?
Yes, most all brands and flavors of toothpaste contain palm oil. Even labels with clean labeling and other advertising typically contain it.
If you are looking for an eco-friendly toothpaste, be sure it doesn't contain palm oil ingredients. Truly eco-friendly toothpastes will be zero waste as well. Do your best to support palm oil free toothpaste.
We are so grateful to Grin Natural, Davids, Earth Paste, Bite Toothpaste Bits, and Fat and the Moon for making tooth cleaners without palm oil.
Learn how to use less palm oil each week. For information on other self-care and hygiene products, see:
In the United States, there isn't a fluorinated toothpaste without palm oil (that we found). The closest thing is Bite Toothpaste Bits which contains Nano-hydroxyapatite (nHAp).
We are not medical professionals. Please consult with your physician and dental health care provider before changing dental health routines.
This list is meant to be a starting point; it isn't guaranteed. To ensure it's Palm Oil Free, it should be certified Palm Oil Free by Orangutan Alliance or the Palm Oil Free Certification Trademark (POFCAP). Read labels and do your own due diligence.
Why do you want eco-friendly toothpaste? Do you believe when a company advertises "natural toothpaste" that it is? Did you know palm oil is common in toothpaste? Please leave your Comments below.