Here is everything to know about finding palm oil free shampoo and palm oil free conditioner. If you are searching for shampoo without Sodium Lauryl Sulfate (SLS), you must read this. If a shampoo is palm oil free, it won't contain SLS either.
Most shampoos and conditioners contain palm oil ingredients. In haircare products, Sodium Lauryl Sulfate (SLS), Sodium Laureth Sulfate, Ammonium Lauryl Sulfate (ALS), Ammonium Laureth Sulfate, and other ingredients are made using palm oil.
These ingredients are used to create lather and foam; to help water mix with oil and dirt; to help the shampoo work its way through hair; and to make hair feel soft. They can be drying for hair and cause irritation, especially on sensitive scalps.
Why do companies use palm oil to make SLS, ALS, and other chemicals? Because palm oil is cheap!
Even when mainstream shampoos highlight "coconut" in their advertising, they still contain palm oil. Most "all-natural" shampoos contain palm oil. They also contain palm oil derivatives and harmful chemicals that irritate sensitive scalps.
Companies Who Sell SLS Shampoo Do This
Companies who make SLS shampoo and sulfate-free shampoos will do these things to hide that they are using palm oil:
They seem to spell out their ingredients
They highlight when an ingredient is derived from coconut oil
However, they will be vague about some ingredients. For example, instead of explaining an ingredient is made with "coconut" or "soy", they will say:
"Plant derived"
"Vegetable based"
"Made from plant oils"
Or other similar, vague uses of the word "plant" or "vegetable"
They appear to be transparent but then aren't.
This means, when you see a company spell out their ingredients and say "coconut" but then other times say "plant derived", it typically contains palm oil. You won't see "palm oil" on the label because companies know palm oil is controversial. More on this below.
Shampoo without Sodium Lauryl Sulfate will often contain these palm oil ingredients. Choose palm oil free shampoo instead.
Cetyl Alcohol
Stearyl Alcohol
Caprylyl Glycol
What's the problem with palm oil in shampoo? Learn more: Why is palm oil bad
Tip for Buying Palm Oil Free and SLS Free Shampoo
Choose shampoo bars and conditioner bars instead of liquids
Choose shampoo concentrates and conditioner concentrates where you add your own water
Another bonus is that bars and concentrates will usually have less ingredients overall.
Keep reading to learn which companies sell palm oil free shampoo and palm oil free conditioner. In alphabetical order, I start with the ones that have taken the necessary steps to certify Palm Oil Free.
First, I want to quickly show you all the ways palm oil hides in shampoos and conditioners.
Palm Oil Ingredients in Shampoo
Common palm oil derivatives in shampoo, even in ones with seemingly-natural ingredients, include:
Ammonium Laureth Sulfate
Ammonium Lauryl Sulfate (ALS)
Caprylyl Glycol
Cetearyl Alcohol
Cetyl Alcohol
Cocamidopropyl Betaine
Cocamide MEA
Diglycerin
Glycerin
Glycol Distearate
Propylene Glycol
Sodium Lauryl Sulfate (SLS)
Sodium Laureth Sulfate
Stearyl Alcohol
Tocopherol
Note, none of these ingredients have "palm" in the name. Manufacturers use palm oil derivatives in shampoo for all types of hair. Below I explain why companies use it in shampoo.
Certified Palm Oil Free Shampoos & Conditioners
Thank you to these companies who make their conditioner and shampoo without palm oil AND ALSO took the steps to get them Certified Palm Oil Free! This is a huge deal in the shampoo and conditioner market. VERY FEW companies do this.
Ethique
The Eco Alchemist
Shampoo without Palm Oil
Ethique
I was thrilled to find Ethique. They are a New Zealand based company and also sell their products in the United States. All of their products are certified Palm Oil Free by Orangutan Alliance.
This eco-based company was awarded New Zealand's most sustainable business. They don't use plastic… and they don't use palm oil! They are natural, non-toxic, and not made from chemicals. Their products and packaging are certified 100% compostable and biodegradable.
They have many palm free shampoos to choose from, depending on your scalp, hair type, and hair condition, all of which help promote healthy hair. Whether your hair is straight or curly, you can choose from:
Ethique shampoo bars
Ethique shampoo concentrates (add your own water)
Check out my interview with Ethique's CEO & Founder, Brianne West: Ethique Interview About Zero-Waste, Palm Oil Free Products
Ethique Solid Shampoo Bars
Sorbet: Restoring for balanced hair
Heali Kiwi: Calming for touchy scalps
Frizz Wrangler: Soothing to nourish dry hair
St. Clements: Clarifying to refresh oily hair
Pinkalicious: Uplifting to revive balanced hair
Sweet & Spicy: Volumizing to add oomph to hair
Mintasy: Refreshing to replenish dry hair; this used to be called Damage Control
Professor Curl: For curly hair
Tip-to-Toe: Solid shampoo and shaving bar
Bar Minimum: Unscented shampoo bar for touchy scalps
Oaty Delicious: Gentle solid for babies and kids
Tip-to-Tot: Multi-purpose wash bar for babies and kids
Tone it Down: Neutralizes brassy tones
I love when companies offer an unscented version. Check out their award-winning Bar Minimum if you have a really sensitive scalp. Mine is very sensitive to chemicals in other shampoos which is why I have used Ethique Mintasy exclusively since 2019. I love it. It used to be called Damage Control.
Ethique also has a Haircare Sampler which is how I originally tried Ethique's hair products. More on this next.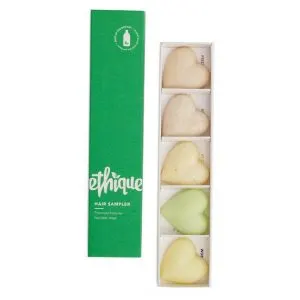 Ethique Hair Sampler Pack
If you are unsure which palm oil free shampoo to try, you may want to choose their Hair Sampler. The box contains three mini shampoos and two mini conditioners. These minis should be enough for you to be able to choose what's best for you. For my very sensitive scalp and dry hair, I liked Frizz Wrangler the best.
Ethique Hair Sampler is perfect to trial and for travel. The compostable box includes:
Frizz Wrangler
Heali Kiwi
Saint Clements
The Guardian – conditioner
Wonderbar – conditioner
The Hair Sampler is great way to try a few to see which work best for your scalp and hair needs.
Ethique Discovery Pack
They also now sell Discovery Packs based on hair type. Each set comes with two mini shampoo bars and one mini conditioner bar:
Balanced Hair
Dry Hair
Itchy Scalps
Oily Hair
Ethique Shampoo Concentrates
Ethique concentrates enable you to have a liquid palm oil free shampoo. You add water at home to your own reusable container. Each concentrate makes 350ml (11.83 fluid oz) of liquid shampoo. These are sold in home-compostable bags and home-compostable boxes.
Gentle Shampoo Concentrate: For touchy scalps
Balancing Shampoo Concentrate: For balanced to oily hair
Nourishing Shampoo Concentrate: For balanced to dry hair
My Experience with Ethique
Since the 1990s, I've reacted to SLS and other chemicals in shampoos. I don't have any issues since using Ethique's shampoos and conditioners. It's been incredible to not have an itchy scalp after decades.
In 2019, I bought Ethique's Hair Sampler pack as a way to try them. (At that time, they didn't offer the Discovery Packs.) Having never used a shampoo bar before, this is what I liked about Ethique's shampoo and conditioner bars:
Easy to use
Shampoos produced foam and lather
Scents weren't strong
Didn't leave residue on scalp
Didn't inflame my scalp
Bars last a long time: Set them on a soap stand to air dry
After purchasing and using the Hair Sampler, I bought the full-sized Heali Kiwi. After using the full-size bar, I didn't like the little pieces in Heali Kiwi. Next, I bought the full-size Frizz Wrangler.
Ultimately, I chose Mintsay (formerly Damage Control) for my fine hair and have been using it ever since. I bring it with me on vacation as well. To date, I have bought 15+ bars and will continue to do so.
One of my children had a flaky scalp and lots of dandruff. Using Mintasy once, it cleared up his entire scalp. It was incredible. He uses it now too.
Ethique Conditioners
These are all palm oil free conditioners:
Ethique conditioner bars:
The Guardian: Nourishing for balanced to dry hair
Curliosity: Cares for curly hair
Wonderbar: Lightweight conditioner for balanced to oily hair
Too Delicious: Intensive for very dry hair and damaged hair
Kookabara: For all hair types
Untangled: Detangling bar for babies and kids
In the Buff: Unscented conditioner bar for sensitive scalps
Tone it Down: Neutralizes brassy tones
Ethique conditioner concentrates:
In 2020, they were first in the world to launch shampoo and conditioner concentrates. These each make 350ml (11.83 fluid oz) of liquid conditioner. You add water to your own reusable container.
Nourishing Conditioner Concentrate: For balanced to dry hair
Balancing Conditioner Concentrate: For balanced to oily hair
Gentle Conditioner Concentrate: For touchy scalps
More About Ethique
In addition, Ethique donates 20% of profits to organizations including: International Animal Rescue; The Orangutan Project; World Animal Protection; HUHA (Helping You Help Animals)
The Eco Alchemist
The Eco Alchemist is a Canadian company and the first in Canada to certify all of their products Palm Oil Free. They have a full line of palm oil free shampoos and conditioners, among many other products. They ship to the United States.
They certified their products through the International Palm Oil Free Certification Trademark. They are transparent with their ingredients. In addition to being Certified Palm Oil Free, their products are biodegradable, plastic free, cruelty free and vegan. They are free from sulphates, silicones, and artificial fragrances.
When adding their shampoos and conditioners to your online shopping cart, you have the option to choose an FSC certified packaging option. You can choose either a recyclable box or compostable tissue paper.
Check out my interview with The Eco Alchemist founder and CEO, Terri Kirkham. She discusses what it takes to for companies to start the process to become palm oil free and offers a discount for readers.
The Eco Alchemist Shampoo Bars
Grow Show Shampoo Bar
Let's Get Toned Shampoo Bar
Non-Scents Shampoo Bar
Problem Solver Shampoo Bar
Rad Hair Day Shampoo Bar
Smooth Operator Shampoo Bar
The Eco Alchemist Dry Shampoo
Their dry shampoo packaging and labeling are recyclable and compostable.
Yuzu + Magnesium Dry Shampoo Powder
The Eco Alchemist Conditioners
At checkout, you can choose compostable tissue paper or a recyclable box.
Grow Show Conditioner Bar
Let's Get Toned Conditioner Bar
Non-Scents Conditioner Bar
Problem Solver Conditioner Bar
Rad Hair Day Conditioner Bar
Smooth Operator Conditioner Bar
Shampoo Brands You May Think are "Better", Aren't
Please note, many natural shampoo companies have changed their ingredients over the years. Many seemingly-natural shampoo brands that years ago used better ingredients, no longer do.
Since the 1990s, I've only bought shampoo from higher-end salons and in recent years, online. I've spent hundreds of dollars, maybe over a thousand dollars, on these shampoos and conditioners. Today, the brands I used to use are inferior to what they were in the 1990s and early 2000s.
They are expensive and marketed as "better" natural shampoo brands. But please know they aren't what they used to be. They all contain inferior palm oil ingredients now. Take a look at the long list of ingredients in any bottle of what you have been led to believe is a better shampoo. Chances are, you will see Sodium Laurel Sulfate and many more of the palm oil ingredients I listed above.
Ethique is different than the other brands. They use high-quality ingredients and no palm oil. Ethique's products are the best I have ever used. I am looking forward to trying The Eco Alchemist's shampoo and conditioner bars as well.
Palm Oil Free Conditioners
Palm oil is very common in conditioners. See above for Ethique conditioners and for The Eco Alchemist's conditioners. They are all certified Palm Oil Free.
Palm Oil Ingredients in Conditioner
Just like in shampoo, palm oil derivatives are common in conditioners. Some of the common palm oil derivatives include:
Cetearyl Alcohol
Cetyl Alcohol
Diglycerin
Dipropylene Glycol
Distearyldimonium Chloride
Ethylhexylglycerin
Glycerin
PEG-7 Propylheptyl Ether
PEG-150 Distearate
Propylene Glycol
Stearamidopropyl Dimethylamine
Stearyl Alcohol
Tocopherylacetate
Vegetable Glycerin
Palm Oil Free and SLS Free Shampoo
Most likely, whatever shampoo you are using has palm oil in it. Like with most personal products, when something has less ingredients, it's usually better.
In order to find shampoo without palm oil, you absolutely have to be a conscious consumer. Most shampoo has several palm oil ingredients.
We started this website because our son has a sensitivity to palm oil. He gets allergic reactions to anything with palm oil in it, including non-food items. See the personal care products he uses.
We have posts with specific personal care and hygiene products as well:
Learn how to use less palm oil each week
Soap Stand for Shampoo and Conditioner Bars
When you use bar soap or bar shampoos and conditioners, you must let them air out. This will help them last longer. There are many bar soap holders and trays available. I highly recommend getting some that will air out the bottom of the bar as well.
I use holders from SoapStandle. They are an easy and convenient way to air out our shampoo bars and conditioner bars, making them last longer. By resting the bar on the stand, the bars can dry completely and not disintegrate from sitting in water. This allows air to dry out the bottom of the soap as well.
This small plastic stand is easy to use and easy to clean. It's a great counterpart to use with your eco-friendly soap, shampoo, and conditioner bars. The SoapStandle is among our favorite items to make it easier to live palm oil free. We use them for all of our soaps, shampoo bars, and conditioner bars.
If you have a 3D printer, you can probably make something as well.
Conclusion
Please support these brands of palm free shampoos and palm oil free conditioners. In addition to not containing palm oil, they do not contain Sodium Lauryl Sulfate (SLS) and Sodium Laureth Sulfate. These sulfates are what make shampoos lather. They belong to a class of cleansers called anionic surfactants, which clean away substances.
Ethique and The Eco Alchemist shampoos and conditioners are guaranteed Palm Oil Free because they were certified through Orangutan Alliance or from the International Palm Oil Free Certification Trademark (POFCAP). Both are recognized in the United States and in many countries across the world.
Additionally, Ethique and The Eco Alchemist have ALL of their other products certified Palm Oil Free as well. Yay!
Why do you want to use shampoos without SLS Did you know about palm oil in shampoo and conditioner? Please let me know in the Comments. I'd love to know why you seek out hair care products without palm oil. Please list other companies who believe to make palm oil free shampoo.