Most shampoos contain palm oil ingredients. You really need to be a proactive consumer to find shampoo without palm oil.
Don't assume natural shampoos are palm oil free. Typically, they also contain palm oil derivatives and harmful chemicals which can irritate sensitive scalps.
Choose shampoo BARS and conditioner BARS INSTEAD OF LIQUIDS if you want to avoid palm oil. Shampoo bars will likely have less ingredients overall.
Palm oil ingredients in shampoo
Common palm oil derivatives in shampoo, even in ones with seemingly natural ingredients, include:
Ammonium Laureth Sulfate
Ammonium Lauryl Sulfate
Cetyl Alcohol
Cocamidopropyl Betaine
Cocamide MEA
Glycerin
Glycol Distearate
Propylene Glycol
Sodium Lauryl Sulfate (SLS)
Sodium Laureth Sulfate
Stearyl Alcohol
Note, none of these ingredients have "palm" in the name. Manufacturers use palm oil derivatives in shampoo for all types of hair. Below we explain why companies use it in shampoo.
Palm oil ingredients in conditioner
Just like in shampoo, palm oil derivatives are common in conditioners. Some of the common palm oil derivatives include:
Cetearyl Alcohol
Cetyl Alcohol
Dipropylene Glycol
Distearyldimonium Chloride
Ethylhexylglycerin
Glycerin
PEG-7 Propylheptyl Ether
PEG-150 Distearate
Propylene Glycol
Stearamidopropyl Dimethylamine
Tocopherylacetate
Shampoo without palm oil
Ethique
We were thrilled to find Ethique and their outstanding shampoo bars. All of their products are certified Palm Oil Free by Orangutan Alliance.
This eco-based company was awarded New Zealand's most sustainable business. They don't use plastic… and they don't use palm oil! Their products and packaging are certified 100% compostable and biodegradable.
They have many choices for palm free shampoos, depending on your scalp and hair condition, all of which help promote healthy hair. Depending on your hair type and whether it's straight or curly, they have many choices.
Dry or frizzy hair: Ethique Frizz Wrangler
Dandruff or scalp problems: Ethique's Heali Kiwi
Normal-Dry hair: Ethique Mintasy (previously called Damage Control)
Normal hair: Ethique Pinkalicious
Oily hair: Ethique St Clements
To volumize hair: Ethique's Sweet and Spicy Shampoo Bar
Kid's shampoo without palm oil: Ethique Oaty Delicious
Multi-purpose shampoo bar: Ethique Tip-to-Toe — can use for shampooing and shaving
Unscented: Bar Minimum
Ethique's newest bars: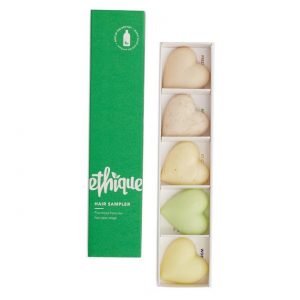 Ethique Hair Sampler
I was happy to see Ethique makes a Hair Sampler pack.
It comes with five small bars: three shampoos and two conditioners.
I bought this as a way to try them. Each lasts a long time. Amazingly, they produce foam and lather. Having never tried a shampoo bar before, they were easy to use.
Also, the scents weren't strong. Even better: They are natural, non-toxic, and not made from chemicals.
The Hair Sampler is great way to try a few to see which work best for your scalp and hair needs.
Ethique's hair products don't leave residues on your scalp, nor will they inflame your scalp. Since the 1990s, I've reacted to SLS and other chemicals in shampoos. I don't have any issues since using Ethique's shampoos and conditioners. It's been incredible to not have an itchy scalp after decades.
Please note, many natural shampoo companies have changed their ingredients over the years. Many seemingly natural shampoo brands that years ago used better ingredients, no longer do. I've either tried or looked at the ingredients for most all the expensive and "better" natural shampoo brands. They aren't what they used to be.
Ethique shampoo review
Ethique's shampoos are the best I have ever used. They use higher quality ingredients than any shampoo brand around.
After purchasing and using the Hair Sampler, I bought the full-sized Heali Kiwi.
I didn't reorder Heali Kiwi but liked it for my scalp and hair. What I don't like about it are there are little pieces in it that were still in my hair after I got out of the shower. I'm not sure if they weren't dissolving or if I wasn't doing a good enough job rinsing them out. (I'm gentle with my hair so this may just be an issue for me.)
Second, I ordered the full-size Frizz Wrangler. I liked it but also wanted to try Damage Control (which wasn't in Ethique's sampler box) to see which I liked better. Note, Damage Control is now called Mintasy.
Since trying it, I bought four more bars. For my fine hair, I like Mintasy the best and Frizz Wrangler second. I'm only using Mintasy from now on because I love it.
One of my children had a flaky scalp and lots of dandruff. Using Mintasy once, it cleared up his entire scalp. It was incredible. He uses it now too.
Palm oil free conditioner and shampoo
Ethique Hair Sampler includes these shampoos:
St Clements
Frizz Wrangler
Heali Kiwi
The Guardian – conditioner
Wonderbar – conditioner
Tone It Down
In addition, Ethique donates 20% of profits to organizations including: International Animal Rescue; The Orangutan Project; World Animal Protection; HUHA (Helping You Help Animals)
Note: Of all the conditioners we looked at, so far this is the only brand of conditioner without palm oil we were able to find available in the United States.
On a personal note, after using Ethique's Hair Sampler, I chose to purchase The Guardian. I've used this conditioner for months; the bar lasts a very long time. My hair was always tangly after getting out of the shower but now I comb through it easily.
Target now sells some Ethique products.
I keep my shampoo and conditioner bars on SoapStandles so they last longer. (More on this below.)
Learn more about Ethique in our interview with CEO & Founder, Brianne West.
Fat and the Moon
Fat and the Moon has an extensive line of products. They have a dry shampoo without palm oil.
Lavender & Cocoa Dry Shampoo
With just four ingredients, this dry shampoo includes lavender essential oil and cleans your hair and scalp without stripping away your natural oils.
Kilted Suds
This is a company who makes their products palm oil free. This includes their shampoo bars, hair oils, bar soap, and lotions. They highlight that they are palm oil free.
Their ingredients are easy to find on their website.
In addition, their products are Leaping Bunny certified cruelty free and vegan friendly. Even more, they don't use parabens or sulfates.
They make four different shampoo bars, 3.5 ounces each.
All hair types:
Shampoo Bar with Shea Butter & Apple Cider Vinegar
Beach Hair Shampoo Bar
Thick hair and curly hair:
Dandruff prone; oily scalp:
Not a Flake Shampoo Bar – made with tea tree oil and lime oil
Unearth Malee
Based in California, Unearth Malee is a company that doesn't use palm oil.
Their products are also vegan and organic. And, they advertise they are palm oil free on their labeling.
These bars are between 4.5 oz and 5 oz.
Normal to Dry hair:
Agave Nectar Aloe Shampoo Bar
Coconut Milk Thai Lime Shampoo Bar
Dry scalp: Rosemary Mint Green Tea Shampoo Bar
Shampoo for thin hair: White Orchid Ginseng Shampoo Bar
They give back to non-profits, including Orangutan Foundation International.
Viva La Body
Available in Australia, Viva La Body makes their products without palm oil.
They also advertise being palm oil free on their website.
They have palm oil free shampoo bars and conditioner bars. These bars are highly concentrated so a little goes a long way.
In addition to being certified palm oil free, their products are vegan, silicone free, completely plastic free, and biodegradable.
Shampoo bars without palm oil:
Available in Salon and Natural formulas:
Balance Bar
Creamy Curls
Every Day People
Keep It Calm
Lifesaver Detox
Rescue Bar
Scalp Solution
Toning Bar
Vitamin Boost
Conditioner bars without palm oil:
Toning Bar
Scalp Solution
Rescue Bar
Keep It Calm
Every Day People
Balance Bar
Vitamin Boost
Lifesaver Detox
Creamy Curls
What does palm oil do in shampoo
There are many reasons companies use palm oil in shampoo. Manufacturers use it to:
Create lather and foam
There are many palm oil derivatives in shampoos as lather-builders and foaming agents. Consumers like lather and suds.
Stabilize ingredients
When companies are combining ingredients — and there are many in most commercial shampoos — they need a stabilizer to keep the ingredients together so they don't separate.
As a preservative
Some palm oil derivatives work to keep contaminants out. These ingredients also:
Remove oil
Clean
Moisturize
Condition hair
Make the product easy to smooth through hair
Soap stand for shampoo and conditioner bars
We've found SoapStandle to be an easy and convenient way to air out our shampoo bars and conditioner bars, thereby making them last longer.
By resting the bar on the stand, the bars can dry completely and not disintegrate from sitting in water. This solution allows air to dry out the bottom of the soap as well.
This stand is easy to use and easy to clean. It's a great counterpart to use with your eco-friendly soap, shampoo, and conditioner bars.
The SoapStandle is among our favorite items to make it easier to live palm oil free. We use them for all of our soaps, shampoo bars, and conditioner bars.
Palm oil free shampoo
Most likely, whatever shampoo you are using has palm oil in it. Like with most self-care products, when something has less ingredients, it's usually better.
Shampoo bars
In order to find shampoo without palm oil, you absolutely have to be a conscious consumer. Most shampoo has several palm oil ingredients.
We started this website because our son has a sensitivity to palm oil. He gets allergic reactions to anything with palm oil in it, including non-food items. See the personal care products he uses.
We have posts with specific self-care and hygiene products as well:
Learn how to use less palm oil each week
Conclusion
Please support these brands of palm free shampoos and palm oil free conditioner.
Use this list as a starting point. It is not guaranteed unless the products are certified Palm Oil Free from Orangutan Alliance or from the International Palm Oil Free Certification Trademark Programme. Both are recognized in the United States and in many countries across the world.
Ethique has all of their products certified Palm Oil Free by Orangutan Alliance. They are in the process of having their new concentrates line certified as well.
Why do you want to use shampoos without palm oil? Please let us know in the Comments. We'd love to know why you seek out hair care products without palm oil.