Lip balm is not created equally. For just a little bit more money, you can buy lip balm without palm oil.
As always, the less ingredients, the better.
We looked at two lip balms from the same major manufacturer. One had 19 ingredients and the other contained 49! Both contained palm oil derivatives.
Palm oil ingredients in lip balm
Palm oil derivatives are common in lip balm. If the company doesn't name the source, these ingredients are typically derived from palm oil. You will need to contact the company to ask.
Here are some palm oil ingredients in lip balm:
Caprylic/Capric Triglyceride
Caprylyl Glycol
Cetyl Alcohol
Cetyl Palmitate
Dipalmitoyl Hydroxyproline
Diisostearyl Malate
Glycerin
Glyceryl Caprylate
Isopropyl Myristate
Propylene Glycol
Polyethylene Glycol
Sorbitan Stearate
Tocopherol — If it doesn't state the source, as in Tocopherol (Sunflower), you won't know if it's palm derived
Vitamin E
The more you learn about palm oil uses and names for palm oil derivatives in everyday products, the easier it is to avoid them.
Lip balm without palm oil
To the best of our knowledge, after cross-referencing their ingredients against hundreds of names of palm oil derivatives, these lip balms do not have any palm oil ingredients.
We reached out to these packaged cookie companies to confirm; however, this list is not guaranteed.
To be certain lip balms, chapsticks, or any products are palm oil free, they should be certified Palm Oil Free by the International Palm Oil Free Certification Trademark Programme (POFCAP) or Orangutan Alliance.
W.S. Badger Co.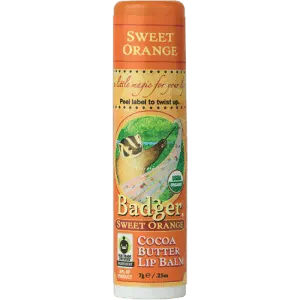 Badger Balm Unscented
Chai Rose
Cheerful Mind
Cinnamon Bay
Cocoa Butter
Cool Mint
Creamy Cocoa
Ginger & Lemon
Herbal Lip Care
Highland Mint
Holiday Jumbo: Peppermint Stick; Cinnamon Swirl; Orange Spice
Lavender & Orange
Lime Rocket
Mocha Cocoa
Peppermint
Pink Grapefruit
Pomegranate Cocoa Butter
SPF Lip Balm Sunscreen
Sweet Orange
Tangerine Breeze
Tea Tree Herbal
Unscented Classic
Vanilla Bean
Vanilla Madagascar
Badger confirmed these balms are palm oil free. They also make lip tints.
Booda Organics
Booda Butter Naked Lip Balm
Eco Balm:

Creamy Cocoa
Enlightened Mint
Purely Naked
Booda Butter Naked Lip Balm is a vegan balm. It's unflavored and unscented. It's free from tocopherols. Ingredients include sweet almond oil and wild-crafted candelilla wax.
This was the first palm oil free lip balm we found and used. We love it!
They've just introduced their Eco Balms. Their website describes their quality ingredients.
Booda Organics makes all of their products without using palm oil or derivatives. Their products don't contain tocopherols or preservatives.
Dunnock and Hinny
Dunnock and Hinny puts the ingredients right on top of the lip balm container — making it easy to see.
Fat and the Moon
You can use this for more than just lips. It's makes a great salve for burns, cuts and bites. Heals skin.
It's organic and shelf stable without the palm oil derivatives many companies use.
Ingredients include calendula and Oregon grape leaf.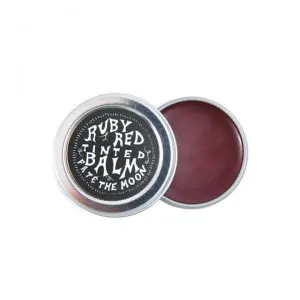 This is balm you can use for your lips and cheeks.
It contains essential oils of clove and sweet orange.
Freedom Soap Co.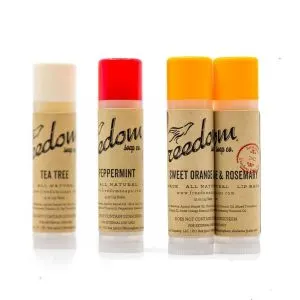 Peppermint Lip Balm
Sweet Orange + Rosemary
Tea Tree
Freedom Soap Co. who confirmed they don't use any palm oil or the hundreds of names for palm oil derivatives.
Hurraw! Balm
Almond
Baobab Banana
Black Cherry Tinted
Chai Spice
Chocolate
Coconut
Earl Grey
Echium Raspberry Tinted
Grapefruit
Kapha
Licorice
Lime
Mint
Moon
Orange
Papaya Pineapple
Pitta
Sun
Unscented
Vanilla Bean
Vata
Wow, what a huge range of palm free flavors.
They have confirmed the Tocopherols in their lip balm is from sunflower and not palm oil.
They use raw, organic and vegan ingredients.
Hurraw! is another company who believes in the importance of making their all of their products without any palm oil ingredients.
Unearth Malee
Cocoa Macadamia Lip Balm
Lemongrass Mint
Watermelon Coconut Tinted
These are packaged in an eco-friendly, push-up paper tube.
According to Uncommon Malee, all of their products are free of palm oil and palm ingredients.
They have lots to say on their website about why they don't use palm oil. It's titled, 'Why Palm Oil Free.'
Also, they highlight a "No Palm Oil" icon along with their "Organic" and "Vegan" imprints.
Simply Eden
Chai
Coffee Bean
Cucumber Melon
Peppermint with Zinc
Peppermint
Sinus Eze Sinus Balm
Sweet Orange Chili Pepper
Unflavored
Simply Eden has confirmed their lip balm flavors are all palm oil free.
Kiss My Face
Kiss My Face confirmed this balm is palm oil free.
How to find lip balm without palm ingredients
Avoid additional characteristics.
When companies add flavors and other characteristics — soothing, moisturizing, medicinal, tinted, sun protection, hydration, etc. — there are greater chances for them to have palm oil ingredients.
Seasonal flavors usually contain more palm oil ingredients than traditional flavors. (This is the case for food as well.)
Don't be swayed by labeling.
Just because lip balm labeling states "coconut" doesn't mean it's palm oil free. Watch for labels that promote "all natural" and "plant derived ingredients." These all can contain palm oil.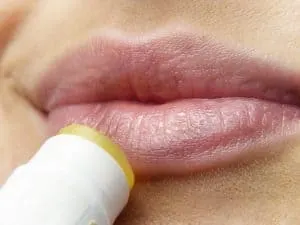 Shop at local stores and natural food stores.
Stores such as Target, Walmart, Walgreens, CVS, etc. are less likely to carry palm oil free products.
Check out your Whole Foods, Natural Grocer, Sprouts, etc. for varieties of small batches. You may find them on Etsy and craft bazaars as well.
Support smaller businesses.
Keep away from major manufacturers, especially ones who offer many different types of lip balm.
Compare prices.
Companies use palm oil because it's versatile and inexpensive. Generally, the more expensive the balm, the better chance it won't have palm oil derivatives.
Lip balm is fairly inexpensive to begin with. By spending a little bit more, you will be able to avoid palm oil.
Choose balm with less ingredients.
Simply put, the less ingredients, the less chance of palm oil.
Seek chapstick and balms with Palm Oil Free labeling
To know for certain a product is palm oil free, seek out companies who have products which have earned Palm Oil Free certification.
Make your own lip balm
There are many sites that show you how to make your own lip balm that is palm oil free. Here's one that suggests using coconut, grapeseed or sweet almond oil.
Why choose palm oil free lip balms
There are many environmental reasons consumers choose lip balm free from palm oil. There are many animals now on the endangered species list because of palm oil plantations.
Palm oil is prevalent in most self-care and hygiene products. Read more if you want to support these types of products:
You can do your part by choosing lip balm without palm oil. By making simple choices, you can choose the products that make less of an impact.
Be sure to always read labels. Companies change ingredients regularly. This list is not guaranteed and is meant to be a starting point. To know for certain a product is Palm Oil Free, look for labeling from the International Palm Oil Free Trademark Certification Programme.
On a personal note, we started this website because our son gets sick from anything with palm oil. This includes foods as well as personal care items. He once got very sick from using a lip serum with palm oil ingredients. See our posts about his palm oil allergy here as well as a list of what personal care products he uses.
Please list any other lip balms without palm oil in the Comments. We'd love to research them and add them to this list. Why do you avoid palm oil?