I often buy a head of cauliflower with high hopes of eating all of it. I like to serve some raw and some cooked. Oftentimes, though, when I'm ready to use it, it's already starting to turn brown. What I do now is make the entire head at once. This whole roasted cauliflower recipe is easy and delicious.
Make a simple marinade using whatever you have. I use organic extra virgin olive oil as a base. Add herbs and spices along with salt and pepper. Recipe ideas below. You can add whatever you like.
Here is how to make a whole roasted cauliflower. It's easy to make because you don't have to cut the florets. I also find my family eats more of the stalks when I make the whole head at once. It's tender and delicious. It's a great way to use up a cauliflower.
When cauliflower is on sale, I buy two heads and make them for my family to enjoy during the busy week.
How Long to Roast a Whole Head of Cauliflower?
A common question is how long do you roast a whole head of cauliflower. If you have a Dutch oven, you can roast a whole cauliflower covered for 35 – 45 minutes on 400ºF (200ºC).
Another option is to boil it head side down for 8 – 10 minutes, and then place it on a baking tray. Set it in the oven at 350ºF. Check for doneness after 45 – 50 minutes. Remove from the oven, and stick a fork in it. If it isn't the tenderness you like, set it back for another 10 minutes. I like this method because parts of the cauliflower will become roasted brown.
Whole Roasted Cauliflower Recipe
Cauliflower does not have a high liquid content. When you roast it, it can dry out if you don't cover it. I don't like tenting foil over it. Below I explain to set it in a Dutch oven which does a wonderful job keeping it moist and tender. If you don't have a Dutch oven, there's another easy way to make it which I explain below.
Feel free to substitute whatever spices and herbs you have for the sauce. I look for ways to add turmeric and paprika to my diet so I'm using them here. (Hence why the cauliflower is brownish red!)
Ingredients
1 large cauliflower
¼ cup extra virgin olive oil
3 tablespoons juice from lemon, lime, or orange
½ teaspoon turmeric
½ teaspoon paprika
½ teaspoon garlic powder
½ teaspoon onion powder
½ teaspoon Italian seasoning
1 teaspoon sea salt
½ teaspoon pepper, freshly ground
Equipment
Knife, cutting board
Large Dutch oven
Small bowl
Measuring spoons
Spoon
How to Make a Whole Head of Cauliflower in Oven
Preheat the oven to 400ºF (200ºC)
Remove brown spots and bottom stem. You can keep the leaves on if you would like. They are edible.
Wash and pat dry.
Combine oil and seasonings in small bowl. Mix until well-blended.
Put cauliflower stem size down in Dutch oven, and baste it with the marinade. Cover as much of the cauliflower as you can, including the bottom, with all the marinade.
Put in oven for 35 – 45 minutes. Check around 40 minutes. If it's tender (to your liking), remove from oven. Otherwise, keep baking for another 10 – 15 minutes.
Optional: Sprinkle with chopped fresh herbs such as basil or oregano.
How to Make a Head of Cauliflower without Dutch Oven
If you don't have a covered Dutch oven, another way to make a whole cauliflower so it doesn't dry out is to boil it first. It makes the cauliflower so tender, and it won't burn. Make the marinade while the water is boiling.
Preheat oven to 400ºF (200ºC). Line baking tray with foil.
Fill large pot with salted water so it will cover about ¾ of the cauliflower. Set to boil.
Once it boils, gently place cauliflower in head side down.
Boil it for 8 – 10 minutes uncovered.
Carefully remove, and use colander to drain.
Set cauliflower to cool for a few minutes.
Place on foil-lined baking tray, and marinade.
Set uncovered in 400ºF oven for 45 – 50 minutes.
Check for doneness with a fork for your desired tenderness.
Place back in the oven for another 10 minutes if desired.
Remove from oven, and enjoy!
Combinations for Marinade
I use Kirkland's Organic Extra Virgin Olive Oil from Costco as the base. Another option is to use avocado oil or ghee.
Some combinations:
Italian seasoning with salt and pepper
Basil, cilantro, tarragon, and parsley
Tahini, lemon juice, garlic, with olive oil
Basil, oregano, parsley, thyme, rosemary, sage, and tarragon
Garlic, rosemary, thyme, and rosemary
Mix in grated parmesan cheese
Topping Ideas
If I have fresh basil or oregano from my garden, I will sprinkle it on the top of the cauliflower head before serving. Otherwise, I grind black pepper and sprinkle sea salt on top. You can add any of these which will change up the flavor:
Drizzle of lemon juice
Additional drizzle of olive oil
Parmesan cheese
Any fresh herbs
Reheating & Storing
If you make this roasted cauliflower in advance, you can reheat the entire head of cauliflower by setting it in the oven. Put it in the oven at 200 degrees F to warm. It should take around 20 – 25 minutes. You can also slice it, and microwave it.
Once it's cooled, you can store the cauliflower in a covered container in the refrigerator for up to 5 days. To freeze, place leftovers in a freezer bag (get the air out before sealing) or freezer-safe container for up to 3 months. Set away from the door to avoid temperature fluctuations.
Eating More Whole Foods
In my house, we always eat fresh fruit. However, sometimes the vegetables sit there for awhile, and I end up freezing them to use in soups, etc. I'm trying to become a lot more intentional when I go to the grocery store. I'll have a recipe in mind instead of thinking we will eat them all raw.
It's easy enough to bake up cauliflower florets but I like how the whole roasted cauliflower looks. I think it makes a lovely presentation– it's quite stunning on the table. I often make it when we have company for dinner. It's unique but it shouldn't be! It's just a head of cauliflower. I think people think it takes more work than it actually does.
I really like how versatile it is. Use whatever seasonings you have. They will taste great.
FAQs about Whole Head of Cauliflower Recipe
How to prepare a head of cauliflower?
There are many ways to prepare a head of cauliflower. If you have a high performance food processor, you can easily chop cauliflower to make cauliflower oatmeal and cauliflower rice. You can bake or stir fry cauliflower florets with olive oil. Another option is to roast the entire cauliflower in the oven.
Mashing and pureeing cauliflower are other options as is making cauliflower tots by coating them in breadcrumbs, quinoa flakes, etc.
How do I clean head of cauliflower?
It's important to clean cauliflower, even if you buy it packaged from the grocery store. According to the University of Maine Cooperative Extension Program, produce with a lot of nooks and crannies like cauliflower, broccoli, and lettuce should be soaked for 1 to 2 minutes in cool, potable water.
Why do you soak cauliflower before cooking?
I generally rinse it well but you can soak cauliflower before cooking to remove dirt and pesticides. Hopefully there won't be critters, but soaking cauliflower would help remove them as well.
How do you clean a whole cauliflower?
You can clean a whole cauliflower by removing the stem and any bad parts. Then rinse it. Next, soak it in salt water for 20 – 30 minutes. Rinse it again, and pat dry.
Whole Roasted Cauliflower with Sauce
I love making this because it's so easy. After you remove the stem, there's no chopping involved. I find everyone eats the stalks when I cook the entire head at once. Whether you roast it in a Dutch oven or boil and then bake it, it will come out moist and flavorful.
Change up the spices and herbs to suit your tastes and whatever you are serving it with. It's perfect for brunch, lunch, and dinner. I brought it to a pot luck, and it was a big hit (and was eaten with much more enthusiasm than the raw cauliflower that was barely touched).
Thanks for being interested in learning about ways to cook at home and to eat whole foods. My family avoids palm oil and processed foods, so I try to make as many meals and sides as I can. Serving whole roasted cauliflower is an easy way to get veggies in.
Please check out my other cauliflower recipes, and feel free to share any Comments below.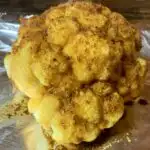 Print
Whole Roasted Cauliflower
This is an easy recipe for whole roasted cauliflower with a versatile sauce. It takes about 5 minutes to prep. The table presentation is stunning... especially when topped with chopped, fresh herbs. It's delicious, tender, and never dry!
Equipment
Knife

Cutting board

6L Dutch oven

Small bowl

Measuring spoons

mixing spoon
Ingredients
1

head of cauliflower, the larger the better (more to eat!)

¼

cup

olive oil

3

tablespoons

lemon juice

can use lime or orange as well

½

teaspoon

turmeric

½

teaspoon

paprika

½

teaspoon

garlic powder

½

teaspoon

onion powder

½

teaspoon

Italian seasoning

or oregano or basil

1

teaspoon

sea salt

½

teaspoon

freshly ground pepper
Instructions
Preheat oven to 400℉ (200℃)

Chop stem from cauliflower. Remove any bad parts and any leaves that don't look fresh.

Wash well, pat dry, and set in Dutch oven.

In small bowl, mix remaining ingredients (olive oil, lemon juice, spices).

Coat cauliflower with marinade, completely covering it

Cover, and set in oven for 35 - 45 minutes. Check for doneness for the texture you like.

Remove from oven. Set on platter to serve. Optional: Top with fresh herbs, parmesan cheese, salt and pepper, etc.
Notes
Use any combination of spices and herbs you have. A dash of this and that works beautifully with roasted cauliflower. It will coat the cauliflower and taste amazing.
If you don't have a Dutch oven, you can:
Set oven to 350 degrees F.
Boil cauliflower in saltwater so it's about 3/4 covered.
Boil for about 8 minutes, then set aside to cool.
Place cauliflower head stem side down on lined tray. Cover with marinade.
Set in oven for 45 - 55 minutes. Check for doneness. It will be a bit browned on top but not burned.