Making cherry preserves lets you enjoy these wonderful little stone fruits all year long. It is super easy to make and uses simple ingredients.
You can use fresh or frozen cherries for this jam recipe. The great thing about using frozen cherries is you can buy them all year. In addition, they are often less expensive per pound than buying fresh bing cherries. I always have a bag or two of frozen cherries in my freezer. (They are great for snacking too!)
Cherry Preserves
You can use this homemade cherry preserves recipe for breakfast, a snack, as an appetizer or for dessert. It's very versatile. And nothing beats homemade! Follow these steps to make homemade cherry preserves.
Prep time: 15 minutes
Cook time: 45 minutes
Serves 22 (2 tablespoons)
Ingredients
2 lbs sweet cherries, pitted, roughly chopped
1 cup water
¾ cup white sugar
1 tablespoon lemon juice
1 teaspoon lemon zest
Vanilla bean, scraped or 1 teaspoon of pure vanilla extract
Pinch of salt
How to Make Cherry Preserves
Combine all ingredients in a large pot.

Cook over medium heat then reduce to simmer.

Simmer the preserves for about 45 minutes, stirring frequently, until most of the liquid has evaporated and the volume has reduced by about half. If you prefer chunkier preserves, leave the cherries whole. If you prefer pieces instead of whole cherries, cut them up a bit.

Spoon the preserves into mason jars or glass container. Leave on the counter to cool, then refrigerate. Keep them covered in the fridge for up to 3 weeks.
What to Serve it With
Like with orange marmalade and strawberry jelly, there are many uses for cherry preserves. It makes a great topping for toast or bread. Serve it with tea or coffee.
You can also use cherry jam preserves for a stunning appetizer by layering the preserves over a block of cream cheese. Serve it with crusty bread or crackers. It's ideal as a snack or appetizer.
If you are looking for more basic and tried and true uses, of course it pairs well with peanut butter for a delicious pb&j.
Like strawberry compote, this recipe is good on vanilla or chocolate ice cream as well.
Homemade Cherry Preserves
Sweet cherries are one of my favorites! I always look forward to cherry season and am so happy to see fresh cherries in my produce department. There's nothing like them.
To enjoy them year round, I buy bags of frozen cherries. If you have a Costco nearby, get their frozen organic cherries. They are delicious. Otherwise, you'll find them in your grocery store. I eat frozen cherries as a snack and use them to make all sorts of cherry-inspired foods like this cherry preserves jam and cherry pie recipe.
My son has a palm oil allergy and palm oil intolerance. Because of this, I learned to make most all of our foods from scratch. While jams, jellies and preserves from the store are usually okay for him, once I got in the habit of buying more fruits and vegetables, I started getting creative.
It's amazing what you can make with frozen and fresh fruits. If you buy a lot of cherries when they are fresh in season or maybe you are lucky enough to go cherry picking and have a surplus. Either way, making cherry preserves is a way to use extra cherries.
You can keep the preserves in mason jars with tight-fitting lids. They will last up to three weeks in the refrigerator.
Also, you may want to play around with the consistency. Make one batch were the cherries are larger — this makes it more like cherry preserves — and another where they are smaller — which makes it more like cherry jam. See how you and your family enjoy it best.
Note, this recipe is for sweet cherry preserves. Do you want to make sour cherry preserves? You'll need to omit half the sugar and add a half teaspoon to the lemon juice.
If you make these cherry preserves, please leave a note in the Comments to let me know how it went and what you will serve it with. If you are like me and my kids, sometimes we'll just spoon it into a bowl and eat it plain. Yum!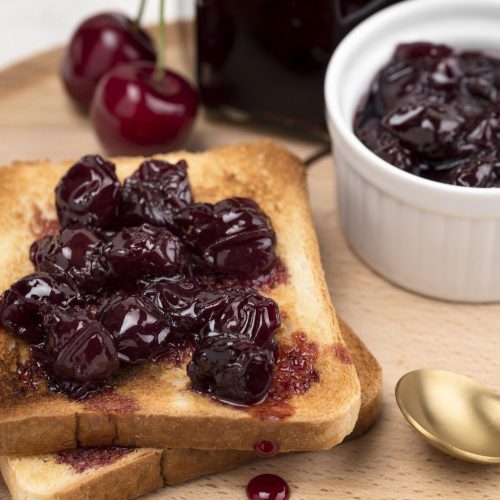 Print
Cherry Preserves for a Quick and Easy Topping
You can make this cherry preserves recipe with fresh or frozen cherries. The fresh-picked cherry flavor can't be beat! It's so delicious and versatile, you'll enjoy it in lots of different ways.
Servings
22
2 tablespoons each
Ingredients
2

lbs

sweet cherries

pitted, roughly chopped

1

cup

water

¾

cup

white sugar

1

tablespoon

lemon juice

1

teaspoon

lemon zest

1

teaspoon

pure vanilla extract

or 1 vanilla bean scraped

pinch

of salt
Instructions
Pit the cherries. If using frozen, they will be pitted.

Combine all the ingredients in a large pot.

Cook over medium heat then reduce to simmer.

Simmer the preserves for about 45 minutes, Stir frequently, until most of the liquid has evaporated and the volume has reduced by about half.

Spoon preserves into mason jars or container. Leave on the counter to cool. Cover and refrigerate. They are good in the fridge for about 3 weeks.