You can make this easy white bean salad recipe in five minutes. Sometimes we eat it as a main meal and sometimes as a side. Since giving up palm oil (which exists in many processed foods), we eat simple, real foods for meals.
This is a quick white bean salad recipe that you can modify based on what you have. Beans are a shelf-stable pantry item and easy to have on hand. We usually buy a variety of canned beans. We buy organic beans when possible.
While we like black beans and brown beans for dips, we love white beans in more of a salad context.
It's a forgiving recipe. You can add what you want, and it will be filling and delicious. This is the best bean salad!
Easy White Bean Salad Recipe
If you don't have or like some these ingredients, look for the substitutions below.
Ingredients
2 cans of white beans: Cannellini, Great Northern, Garbanzo, White Kidney beans; mix them up for more variety
Olive oil
Fresh basil
Tomatoes
Salt & pepper
How to Make White Bean Salad
Open cans of beans with can opener
Keeping lid on the can, drain the liquid in the sink
Pour beans in bowl
Drizzle olive oil on beans and mix
Cut up tomatoes and fresh basil and add them to mix
Add salt and pepper
It serves four. We estimate the serving size to be half a can per person. Add additional cans of beans if you have more people
Seriously, can it get easier and tastier than this? It tastes better cold but you can make it quickly, right at dinner time.
The best part — aside from the fact that this white bean salad recipe uses easy-to-find ingredients and is healthy — is it's palm oil free.
It's also quite pretty with tomatoes and fresh herbs. It will look like it took effort but in reality, it is a fast recipe.
Substitutions
Other things to add or substitute based on what you have and what your family likes:
Avocado oil
Squeeze of fresh lemon or fresh lime
Chopped bell peppers — they add gorgeous colors
Red onion, white onion, yellow onion — any chopped onion!
Chopped leeks, scallions, shallots, garlic
Fresh rosemary, oregano, any herbs
Olives
Non-vegan options:
Cut up mozzarella cheese or other cheese
Bacon
Easy substitute any of these to change it up to make it:
Cannellini salad recipe
Mediterranean bean salad
Greek white bean salad recipe
Italian white bean salad recipe
White Bean Varieties
To keep it interesting, you can use whatever white beans you have. Having different sizes adds visual interest.
In addition, even though all of these beans are white, they taste differently and have different textures. Combining several varieties of white beans also means you can use whatever you have in your cupboard.
Here's how you will see them in the grocery store:
Cannellini beans
White Navy beans (the same as Cannellini beans)
Small White beans
Great White Northern beans
Garbanzo beans (the same as Chickpeas)
Buy several cans to have on hand. Beans make a great palm oil free pantry staple.
Benefits of Legumes
White beans and all beans are legumes. They are high in soluble fiber and low in fat. They are cholesterol free. Beans are a great vegan option and are filled with protein.
There are many benefits to eating beans. They are hearty and filling. White beans are a nutritional powerhouse.
Beans in general, but especially white beans, work well as a main dish or a side. If you are trying to limit breads and starches from your dinners, try replacing them with this easy white bean salad recipe. It's satisfying to eat, and you won't feel deprived.
Bean Salad Recipe Tips
While this is already a great palm oil free recipe, once you've found how your family likes to eat this white bean salad, up your game using these tips.
Organic olive oil
We love Kirkland Organic Olive Oil from Costco. We try to buy organic when we can and especially for ingredients we use often, like with olive oil.
Whether you buy organic or not, read the ingredients to be sure whatever you buy is 100% pure olive oil.
Fresh basil
It's so easy to buy a pot of fresh basil.
In addition, it's often less expensive to buy the fresh basil plant than it is to buy packaged fresh basil. It's better for the environment too. Keep using it and more will grow.
You can find pots of basil at grocery stores such as Trader Joe's, Sprouts, and others. You can also find fresh basil planters at Home Depot, Lowe's, sometimes Walmart in their produce section, and at garden centers and nurseries.
Keep it on your counter and use as needed. You can even plant it in your yard. Before you do, snip off a few branches and root them to grow more basil plants.
Basil is one of the easiest herbs (and plants) to grow. It will add so much flavor and visual interest to your salads and other dishes. Fresh basil adds excellent flavor to white bean salads.
Salt and pepper
In addition to table salt, you can use specialty salts you may have on hand. Mix several together.
Use them liberally to taste. Some to try in this bean salad include Himalayan pink salt, Celtic sea salt, Mediterranean sea salt or other salt for more flavor. Use fresh ground pepper for extra flavor as well.
Adding different salt other than table salt will add richness to your foods. It's so easy to change up a bean salad recipe just with this tweak.
Homegrown tomatoes
If you can grow tomatoes, nothing beats fresh tomato in this white bean salad.
Mixing Beans Together
We love mixing great northern beans with cannellini beans. Sometimes we add garbanzo as well. The different sizes, flavors and textures make it a satisfying side dish or main meal.
Easy White Bean Salad Recipe
This is a simple and easy palm oil free recipe to make for dinner, to pack for lunch, or to bring out as a dish to someone's house… no baking or cooking necessary.
To us, it tastes better cold, but we usually make it right before dinner. You can always keep the beans and other ingredients in the refrigerator.
It's also better the next day when all the flavors have melded together — so it's great for leftovers — if you have any left! We usually double the recipe so we can enjoy it the next day.
Eating palm oil free in our world of processed foods is sometimes a challenge. However, when you find some family-favorites, it's easy to eat more real and whole foods.
You can take it an extra step and use dried white beans but we have only made this from canned beans. Cold bean salads are easy to make.
Palm Oil Free Recipes
Beans are palm oil free, even in cans. It's easy to eat palm oil free with a few staples and adding in whole foods. After you eat this white bean salad you will feel like you have eaten and be satisfied.
This recipe is a great option for vegans and vegetarians. It's also gluten-free. This easy bean recipe is high in plant-based protein and healthy fats.
We do our best to live without palm oil because our son has a palm oil allergy or intolerance to it. Learn about the foods he eats. Also, please check out our ultimate list of palm oil free products. What you do makes a difference!
We will have more recipes coming soon as we cook from scratch most days. We also bake desserts, breads, and waffles from scratch. In general, we pretty much eat simple, whole foods.
See related:
Costco foods without palm oil (We love their organic black beans and extra virgin olive oil!)
Vegan Pantry Staples Without Palm Oil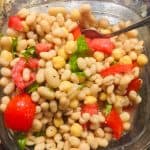 Print
White Bean Salad Recipe
This white bean salad is delicious and takes just five minutes to prepare. Make it your own with what you have on hand. Below are some suggestions. This is the best white bean salad!
Ingredients
2

cans of white beans

Choose Cannellini, Great Northern, Garbanzo, and White Kidney beans. Mix them for more variety.

olive oil

fresh basil

tomatoes

salt & pepper
Instructions
Open cans of beans with can opener

Keeping lid on the can, drain the liquid in the sink, rinse beans

Pour beans in bowl

Drizzle olive oil on beans and mix

Cut up tomatoes and fresh basil and add them to mix

Add salt and pepper
Notes
Other ingredients you can add or substitute:
Avocado oil
Squeeze of fresh lemon or fresh lime
Chopped bell peppers
Chopped onion, leeks, scallions, shallots
Fresh herbs
Garlic powder
Olives
Cut up mozzarella cheese or other cheese