Palm oil is common in lotions, creams and moisturizers because it's inexpensive and versatile. Companies use it as a preservative. It also works as an emollient to soften the skin. Here's a list of lotion without palm oil.
The majority of the lotions you will find in grocery stores and stores such as Walgreens, CVS, Rite-Aid, Target, Walmart, Trader Joes, Sprouts, Whole Foods, Costco, etc., will contain palm oil.
Read labels, and choose lotions with the least amount of ingredients to lessen your chance of palm oil. There are many ways companies disguise palm oil in self-care products.
Palm oil free skin care
I became aware of palm oil in lotion because my son has allergic reactions to palm oil. Since 2017, I have worked to eliminate palm oil and find alternatives. I started this site to compile my research because it was astounding for me to learn how palm oil was in so many products.
Palm oil derivatives in lotion
Take a look at the ingredients in some moisturizers and lotions you already own. What's in them? While you likely won't see "palm oil" listed in the ingredients, you will see palm oil derivatives such as:
Ascorbyl Palmitate
Caprylic/Capric Triglyceride
Caprylyl Glycol
Ceteareth 30, Ceteareth 20
Cetearyl Glucoside
Cetearyl Alcohol
Cetyl Alcohol
Coco Caprylate
Dimethicone
Elaeis Guineensis
Ethylexylglycerin
Ethylhexylglycerin
Ethylhexyl Palmitate
Glycerin
Glycerin (Vegetable)
Glyceryl Caprylate
Glyceryl Monostearate, Glyceryl Stearate, Glyceryl Stearate Citrate
Laureth-7
Palmitoyl Oligopeptide
Palmitoyl Tetrapeptide-7, Palmitoyl Tripeptide-38
PEG-4 Laurate, PEG-4 Dilaurate
PEG-100 Stearate
Polyethylene Glycol Monostearate
Propylene Glycol
Sorbitan Tristearate
Stearic Acid
Stearoyl Glutamate
Stearyl Alcohol
Tocopheryl Acetate
Tocopherol (with or without Vitamin E listed)
Typically, there will be more than one palm oil ingredient in lotion, making them easy to find on labels. Unless the company lists the source of an ingredient — as in Tocopherol (Sunflower) — you won't know whether it's made from palm oil unless you contact them. Palm oil derivatives are common in face creams, lotions, moisturizers, etc.
Lotion without palm oil
Support these companies who make palm oil free lotions, creams and moisturizers. They are the exception in this industry. Most of these brands also list all of their ingredients transparently on their websites.
Even more, some of these companies make all of their products palm oil free.
Please note, we do not warrant that the ingredient, sourcing, allergen, and product information is accurate or complete. Our information comes from product manufacturers.
Certified Palm Oil Free labeling from the Palm Oil Free Certification Trademark (POFCAP) or from Orangutan Alliance are the only ways to determine products are 100% palm oil free.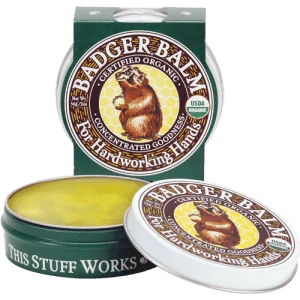 Badger
After Sun Balm
Aromatic Chest Rub
Baby Balm
Badger Balm
Badger Balm Unscented: Contains just two ingredients: Organic extra virgin olive oil and organic beeswax.
Belly Butter
Damascus Rose Beauty Balm
Foot Balm
Tattoo Balm
It's easy to find the ingredients in each of Badger's balms on their website.
Be aware of companies who make it difficult to find their products' ingredients.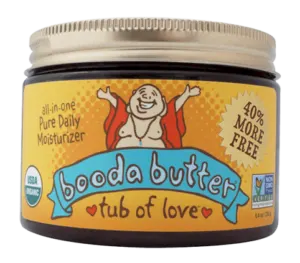 Booda Organics
Booda Butter Daily Moisturizer

Spread the Love, 2.3 oz
Tub of Love, 8.4 oz
Booda Butter is available two sizes. It contains just five ingredients. Their ingredients are Certified Organic & Unrefined. Booda Organics confirmed their products are palm oil free.
Ingredients: Fair Trade Shea Butter, Fair Trade Cocoa Butter, Coconut Oil, Olive Oil, and Jojoba Oil.
Ethique
Ethique Butter Blocks

Sweet Orange & Vanilla
Coconut & Lime
Jasmine & Ylang Ylang

Peppermint & Tea Tree Foot Balm
Love Baby Bar Baby Massage Bar
Ethique makes all of their products, including these Butter Blocks and Bars, without palm oil. Their products are certified Palm Oil Free by Orangutan Alliance.
Ethique spells out each ingredient. They also have an "Our Ingredients" page which explains the SOURCE of each ingredient.
In addition, they explain how the ingredients aren't derived from palm oil and what they use instead.
The Fanciful Fox
Best Buds Body Butter
Body Lotion

Beatnik Poet
Fire Dance
Lucid Dream
Pink Wednesday
Oats I Did It Again

Bright Eyes: Eye Cream
Facial Moisturizer

About Face
Present Perfect
Blemish Buster
Save Face

Hand & Body Moisturizer

Sweetie Pie Whipped Cream
Unicorn Dreams Whipped Cream

Naked Baby Mild Lotion
They list their ingredients on their website. Their owner verified all of their products are palm oil free.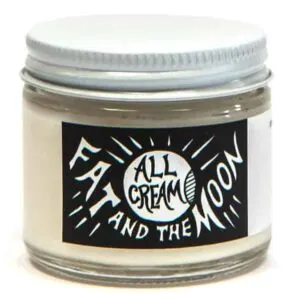 Fat and the Moon
All Cream
Aloe Lotion
Face Oil
Love Thyself Bod Oil
Moon Fat Bod Oil
Here is another company who lists their ingredients on their website. Also, they confirmed they make the above products without palm oil derivatives.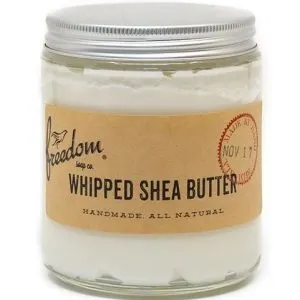 Also note, Freedom Soap Co. has taken extra steps to apply for and earn palm oil free certification. All of Freedom Soap Co.'s products are Orangutan Alliance Certified Palm Oil Free.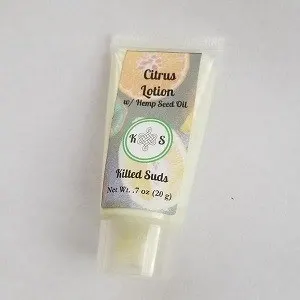 Kilted Suds
Breath with Eucalyptus & Mint
Chamomile with Hemp Seed Oil
Citrus with Hemp Seed Oil
Creative
Dathuil
French Vanilla
Gnat Away Solid Lotion Stick
Groovy Wombat Lotion
Hibiscus
Lilac & Lily
Muscle Relief Massage Butter
Patchouli
Pumpkin Spice with Hemp Seed Oil
Rainforest Lotion with Hemp Seed Oil
Sleep with Lavender and Cedar
Kilted Suds makes all of their lotions and and other products without palm oil. They also list the ingredients for all of their products on their website.
The owner confirmed the Tocopherols, Cetearyl Alcohol and Coco-Glucoside they use are not derived from palm oil. Instead, they use olive oil, coconut oil, and sunflower oil.
Simply Eden
Foot and Body Balm

Peppermint & Lavender
with Immune-Supportive Essential Oils
Their Peppermint & Lavender balm is handmade with six ingredients: Beeswax, Sunflower Oil, Shea Butter, Cocoa Butter, Lavender Essential Oil, Peppermint Essential Oil.
Also, it's easy to find the ingredients for their lotions on their website.
Unearth Malee
Body Butter

Citrus Woods Organic
French Lavender Organic
Prickly Pear

Organic Lotion Bar

Ginger Lemongrass
Jasmine Mint
Lavender Chai
Patchouli Orange
Prickly Pear

Treatment Balm

Ginseng
Thai Herbal Muscle Rub
Turmeric Anti-Inflammatory
Unearth Malee confirmed they make all of their self-care products, including these butters, lotions and balms, without palm oil.
Palm oil free lotion Europe
Amaranthine Beauty has certified their entire line of beauty products palm oil free through the Palm Oil Free Certification Trademark (POFCAP).
Located in Scotland UK, they offer many palm oil free skincare items. They also offer Face Masks, Cleansing Balm, and Lip Balm.
Palm oil free skin care
Whether you use an "all purpose" lotion or one specifically for eyes, hands, feet, body or face, there is likely palm oil in it. Body butters contain palm oil. Baby lotions and creams contain it.
It's common in foot cream, hand moisturizers and eye cream.
While scented lotions generally contain more ingredients, unscented lotions still contain palm oil derivatives.
Hypoallergenic lotions also contain palm oil. Remember, palm oil has many uses and is a versatile product. It's also very inexpensive for manufacturers to use.
Palm oil common in all types of lotions
The very best thing you can do is read labels. If the lotion has a long list of chemical names — many of them are above — you can be sure they aren't palm oil free.
The only way to know for certain is if the product is Palm Oil Free certified.
Second best is to ask the company — ask them to check with their R&D department — specifically about each ingredient. Most customer service reps will not know the source of the ingredients.
Watch for "natural" lotions
Note, even in brands, labeling and packaging you may perceive to be "natural, healthy, and earth-friendly," there may be palm oil ingredients. Companies who advertise them as vegan and cruelty-free can still contain palm oil.
Plant-derived lotions
In self-care products, marketers use buzzwords such as "Plant-Derived." This may mean the creme or moisturizer contains palm oil.
Natural ingredients in lotions
You might also see labeling advertising the lotion is "Natural" or made using "Natural Ingredients." This is another marketing tool. Palm oil is considered "natural."
Using less lotion
Using less of something with palm oil in it is a way to lessen overall demand. What can you do? Try skipping a day or using less lotion each time you apply it. Make small changes and find ways to use less palm oil.
Palm oil free lotion
There are many reasons consumers seek out palm oil free moisturizers and lotions. Many avoid palm oil for the environmental implications. Others avoid it for health reasons.
This is a list of the personal care items our son uses without palm oil. Learn more about our experience with palm oil allergy / intolerance.
Vote with your dollars and buy palm free lotion. Ask companies about their ingredients. Thank companies who are making lotions without palm oil.
Remember, when companies advertise lotions as non-allergenic, hypo-allergenic, natural, or plant-derived, these too can contain palm ingredients hidden under other names.
See related. Palm oil is many types of products:
Do you know other palm oil free creams, lotions, and moisturizers? Please leave them in the Comments so we can all support these brands. Why do you seek out these types of products? Please let us know in the Comments.
This list is not guaranteed; use it as a starting point. Remember, Certified Palm Oil Free labeling from the Palm Oil Free Certification Trademark (POFCAP) or Orangutan Alliance ensures products are 100% palm oil free.