Many people are surprised to learn how prevalent palm oil ingredients are in breakfast cereal.
It continues to be difficult to find ready-to-eat cereals without palm oil ingredients. While many list "palm oil" in the ingredients, a great many others fortify their cereals with Vitamin A Palmitate, a palm oil derivative.
Vitamin A Palmitate in cereal
An easy way to tell if palm oil is in your cereal is to look at how much Vitamin A is in it. If it's 10% or greater, it most often contains synthetic Vitamin A.
Then you can quickly look for Vitamin A Palmitate in the ingredients. Cereal boxes used to list Vitamin A first in their nutrition panel. Now, many companies are putting Vitamin A in the middle making it more difficult to find. Be aware of this!
Common palm oil ingredients in cereal
Here are the palm oil ingredients in cereal to watch for. We explain them in more detail below.
These are:
Glycerin
Anything with the word Tocopherols

Mixed Tocopherols
Tocopherol / Vitamin E
Tocopherols to Maintain Freshness

Palm Oil and Palm Kernel Oil
Cereals without palm oil
After researching cereals in several grocery stores, including industry-leading cereals and many healthier brands, we've found these cereals without palm oil.
Please note, this is from emailing companies and comparing ingredients from a list of palm oil derivatives.
While we read labels, reference the list of names for palm oil derivatives, and email companies asking about their ingredients, the only way to be 100% certain a product is Palm Oil Free is if it has been certified through the International Palm Oil Free Certification Trademark Programme.
Therefore, this list is not guaranteed; it shouldn't be used for medical advice.
My son,
who has
reactions to anything with palm oil in it, enjoys these cereals safely.
Kellogg's Raisin Bran
This is a rare ready-to-eat cereal that is palm oil free. Check the ingredient label before you buy it to be sure it doesn't contain Vitamin A Palmitate, Vegetable Glycerin, or Palm Oil.
Their Raisin Bran Crunch lists "palm oil" in the ingredients.
Some of Kellogg's other Raisin Bran varieties contain Vegetable Glycerin and Vitamin A Palmitate. So double-check you are buying "regular" Raisin Bran before you buy.
Be sure you are buying Kellogg's Raisin Bran and not Post's Raisin Bran.

Their boxes are similar! Post Raisin Bran contains Vitamin A Palmitate.
Quaker Life Cereal
Original: UPDATED OCTOBER 2021: LIFE CEREAL NOW CONTAINS TOCOPHEROLS. THEY MAY BE MADE WITH PALM OIL.
Quaker:
Puffed Rice
Puffed Wheat
Corn Crunch
Quisp (Some versions contain Tocopherols; check the label. Don't buy it if it's listed.)
Post
Shredded Wheat:
Original Spoon Size
Wheat Big Biscuit
Wheat 'N Bran
Post Original Chips Ahoy!
It was a wonderful surprise to see this new cereal without palm oil. Post makes this Chips Ahoy cereal with canola oil and soybean oil — no palm oil and no added Vitamin A.
Kashi
Thanks to Kashi who reviewed their processing aids and double-checked with all of their suppliers, including the ones who provide their natural flavors.
They've confirmed these Kashi products are 100% free from palm oil derivatives.
Kashi 7 Whole Grain:
Flakes Cereal
Honey Puffs Cereal
Puffs Cereal
Pilaf
Whole Wheat Biscuits:
Autumn Wheat
Island Vanilla
GOLEAN Peanut Butter Crunch Cereal
Kashi Organic Strawberry Fields Cereal
Be sure to read Kashi labels. We were disappointed to learn their new Kashi by Kids cereals contain palm oil.
Market Pantry (Target brand)
Honey & Oat Clusters
Toasted Cinnamon Squares
Continue to read labels to be sure they don't add Vitamin E or Tocopherols to these.
Oatmeal without palm oil
Often, instant oatmeal cups and instant oatmeal packets contain palm oil in the form of Vitamin A Palmitate. Read labels before buying. Choose whole oats for palm oil free oatmeal. You should be able to find them at most grocery stores.
Quaker Oats Old Fashioned Oats
Cook oats and add whatever you enjoy. Some of favorite combinations include:
Cinnamon and cut-up apple
Bananas and walnuts
Chocolate chips and walnut
Berries and almonds
Pistachios and apricot, peach, nectarine, etc.
Add dried or fresh fruit, nuts, brown sugar, and anything else for variety.
Red Ape Cinnamon
All of Red Ape Cinnamon products have been certified Palm Oil Free by the International Palm Oil Free Certification Trademark Programme. (We use Red Ape Organic Cinnamon when we make oatmeal.)
Red Ape Cinnamon Oatmeal Cup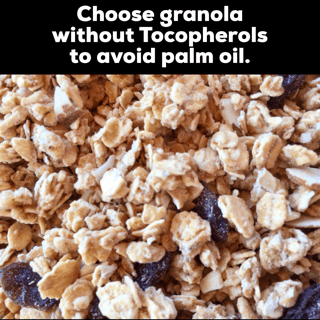 Granola without palm oil
It's hard to find palm oil free versions of granola because companies add Glycerin, Mixed Tocopherols, Tocopherols, and Tocopherols with Vitamin E.
Tocopherols in granola are usually made with palm oil. They are common in granola.
Purely Elizabeth
We are happy to have confirmed with the brand Purely Elizabeth that they offer a wide variety of granola without palm oil.
Ancient Grain Granola:

Blueberry Hemp
Cranberry Pecan
Original
Pumpkin Cinnamon
Grain-Free Granola:

Coconut Cashew
Banana Nut Butter (The Citric Acid is not derived from palm oil.)
Chocolate Hazelnut + MCT Oil (The MCT oil is coconut, not palm oil.)
Cinnamon Peanut Butter + MCT Oil
Nut Butter Granola:

Chocolate Sea Salt + Peanut Butter
Maple + Almond Butter
Note, their Probiotic Granola Flavors contain palm oil and are clearly stated in the ingredients. They aren't hidden as Tocopherols, etc.
On a personal note, my son has a palm oil allergy or palm oil intolerance. He loves granola for breakfast and for a snack.
However, we weren't able to find granola without palm oil until we saw Purely Elizabeth at Target. We were thrilled! They use real ingredients you can recognize and pronounce.
So far, we've tried Purely Elizabeth's Blueberry Hemp Ancient Grain and the Cranberry Pecan Granola. We buy them regularly from from Target.
It's non-GMO and gluten-free and also includes all of these organic ingredients: oats, coconut sugar, raw virgin coconut oil, sunflower seeds, puffed amaranth, hemp seeds, millet flakes, quinoa flakes, chia seeds, and cinnamon.
It tastes amazing! It has more clusters and clumps than mainstream brands which makes it even better. We love it and look forward to trying their other flavors.
Erin Baker's
According to Erin Baker's, all of their granola is palm oil free. It's also Non-GMO Project Certified and gluten free.
Homestyle Granola

Fruit & Nut
Peanut Butter Chocolate
Double Chocolate
Vanilla Almond Quinoa
Coconut Chia
Maple Pecan
Oatmeal Raisin

Ultra Protein Granola

Tri-Berry
Endurance Crunch
Other granola:
Simply Balanced Organic Blueberry Granola with flax
Purely Elizabeth
Purely Elizabeth also offers a variety of single-serving sized cups and regular-sized flavored oatmeal without palm oil.
Vibrant Oat Cups: Blueberry Lemon Vibrant Oats; Coconut Turmeric; Raspberry Pitaya
SuperFood Oat Cups: Apple Cinnamon Pecan; Cranberry Pumpkin Seed; Original
SuperFood Oats: Apple Cinnamon Pecan; Cranberry Pumpkin Seed; Original
Be sure to avoid instant oatmeal packets which usually contain Vitamin A Palmitate. Choose oats you have to cook on the stove.
How to find cereals without palm oil ingredients
You may be avoiding everything with the word "palm" in it. And that's a great start.
However, when it's disguised as other names, it gets trickier.
You might not realize there are many other names for palm oil in cereal and other foods.
Fortified cereals
Usually, most types of fortified cereals will contain palm oil ingredients.
Most contain Vitamin A Palmitate, which is a synthetic vitamin manufacturers make with palm oil.
Fortified cereals sometimes contain Vitamin E in the form of Tocopherols.
Note that Tocopherols and Mixed Tocopherols are also often added to cereals and other products to preserve freshness.
Alternate names for palm oil derivatives in cereal
Once you know what to look for in cereals, it will be a lot easier to find them without palm oil.
Vitamin A Palmitate contains palm oil
If you see a cereal with DV of 10% or more of Vitamin A, most likely it will have Vitamin A Palmitate. This synthetic vitamin contains palm oil.
You will find this palm oil derivative in most of your Kellogg's and General Mills cereals.
In Post and Quaker, you will see them less often as many of their cereals aren't fortified with Vitamin A.
(Also, if you add milk to your cereal, watch for Vitamin A Palmitate. It's added to 2%, low fat, and fat free milks, but not whole milk.)
Palm oil and palm kernel oil
Many Kellogg's, General Mills, and Post cereals will state palm oil or palm kernel oil right on the ingredients.
Complex flavors such as chocolate, peanut butter, Oreo, etc. often contain palm oil.
Also, watch out for cereals that are coated, waxy or greasy feeling.
All of these will have these ingredients listed with the actual words "palm," which makes it easier.
Glycerin is made from palm oil
You have to watch out for glycerin in cereals as well. It's often made with palm oil. Glycerin is common in granola.
Some healthier brands, including Purely Elizabeth as mentioned above, are using better-quality ingredients.
Tocopherols ingredients often contain palm oil
In my quest to find cereals without palm oil, I made many mistakes.
Very unfortunately, my son paid the price in terms of getting sick from the palm oil we didn't know was in the cereals.
I bought several varieties of palm-free-seeming cereals, and each one made him sick.
I didn't know why until I learned tocopherols are often made from palm oil, especially when used in lower cost products.
Tocopherols can be added as a form of Vitamin E and/or to preserve freshness in cereals and other foods.
The symptoms my son had after eating cereals with tocopherols were different from when he consumed the other palm oil ingredients.
While cereals and foods with palm oil gave him immediate congestion and throat clearing, etc., cereals with tocopherols made him completely exhausted and lethargic and caused him to have a few hives. I've contacted many companies asking about their tocopherols.
Many cereal manufacturers use palm oil to make tocopherols. We do not take the chance and avoid them completely.
Alternate names for palm oil
As you may know, palm oil ingredients go by hundreds of names.
Reference this extensive list which contains hundreds of palm oil derivative ingredient names. You can print it here. Keep it with you as a resource if you are trying to avoid palm oil.
Carry it with you, and before buying any new products — foods and self-care products — reference it. It's a way to help you buy palm-free cereal and products.
After doing this a few times, you will know what to look for and the products and brands to buy.
Palm oil free scanner app
In addition, you can install a palm oil finder app.
We have had success with SpoonGuru.
It's a free app which has been good at finding hidden palm oil derivatives. You can scan the cereal's UPC code to see if it contains palm oil.
Palm oil free cereals
It's so important to support these companies. Please especially support these specific products who don't use palm oil ingredients in their cereals.
See our list of palm free products:
Be sure to read the labels as companies change ingredients in their products.
Palm oil free cereal
As palm oil becomes even more prevalent in products, hopefully there will be more information to help people find products without it.
Cereal is a staple in our house. It's been a challenge to find cereals without palm oil. We are always on the lookout for more cereals.
We will continue to buy palm free cereal and products. If we are not certain they are, we don't buy them.
Palm oil free cereals
Please support this list of cereals. We compiled it to make it easier to find cereals without palm oil.
We will be brand-loyal to these cereals and applaud them for using palm-free alternatives.
To the best of our knowledge, after cross-referencing their ingredients against hundreds of names of palm oil derivatives and checking with companies, these cereals do not have palm oil ingredients. However, to be sure a product is palm oil free, it needs to have certified Palm Oil Free labeling.
Please note, content on this site is for reference purposes only. We do not warrant that the ingredient, sourcing, allergen, and product information is accurate or complete. Our information comes from product manufacturers.
Product formulas, ingredients, and labels change. Please read labels and do your due diligence.
We continue to update this regularly.
Honey Comb cereal now contains palm oil
We also remove products when companies change their ingredients as in the case of Honey Comb cereal.
Honey Comb from Post used to be palm free but in mid-2018 they began to fortify it with Vitamin A Palmitate.
Most likely what's on the shelves now is Honey Comb's revised product which advertises "It's Back! Original Flavor."
The version on the shelf prior to this change (the left cereal box in yellow) did not include palm oil derivatives and was one of the few "sugar cereals" my son could eat. We no longer buy this cereal but bought the remaining boxes from three stores.
These are the safe foods my son eats.
If you know of or find granola and cereals without palm oil, please include them in the Comments so we can support these brands. Why do you avoid palm oil?