You can start your day with a breakfast without palm oil if you know what to watch for. Below we discuss common breakfast foods, which ones contain palm oil, and some easy palm oil free substitutions.
Sometimes you have time for a homemade breakfast and sometimes you need to grab and go. Here are choices for palm oil free breakfasts. Most of us have palm oil in the morning without even realizing it.
Breakfast without palm oil
Toast, English muffins, croissants, and bagels
One brand for palm oil free English muffins, bagels, and bread is Dave's Killer Bread products.
Dave's Killer Bread: all products
Dave's Killer Bread confirmed they don't use palm oil in their products.
Other breads typically contain palm oil derivatives in many forms. Bread manufacturers use palm oil derivatives to keep them shelf stable, to make them larger/fluffier, to make them more dense, and/or to add to mouth feel.
Watch for ingredients such as:
DATEM
Monoglycerides
Sodium Stearoyl Lactylate
Calcium Stearoyl Lactylate
Mono- & Diglycerides
Distilled Monoglycerides
Ethoxylated Mono- & Diglycerides
If you make your own bread, use Yeast without Sorbitan Monostearate which is often sourced from palm oil. The only palm oil free yeast we've found — just "yeast" is listed in the ingredients — is:
Red Star Active Dry Yeast: in the three-pack
Spreads without palm oil
What are you putting on your toast, bagel, or English muffin? Some palm oil free choices include:
Nocciolata Organic Hazelnut Spread and other Nocciolata flavors
Kraft Hazelnut Spread with Cocoa – made in Canada but can find online in the US
Miyoko's Cultured Vegan Organic Butter
100% fruit preserves – Make your own orange marmalade, cherry preserves, or strawberry jelly.
Pure honey
Real butter
Peanut butter – Use protein-packed palm oil free peanut butter but be sure to read labels. Also, avoid "no stir" labeling. "No stir" is a marketing buzzword code for "it includes palm oil." Be sure you are buying "peanut butter" and not "peanut butter spread" which contains palm oil.
Avocado
Please note, margarine, vegan butter, and imitation butters typically contain palm oil.
Doughnuts, muffins, and pastries
We have yet to find doughnuts and pastries without palm oil. Pre-made desserts most always contain palm oil. While it's common to see doughnuts and other bakery items at the office and at meetings, do your best to avoid them.
Avoid packaged bakery snacks, including PopTarts, Hostess products, Little Debbie, etc.. These contain palm oil as do most cookies.
Erin Baker's Breakfast Cookies: They've confirmed they make all of their flavors without palm oil.
Make your own muffins, and store them in the freezer for a fast, palm free breakfast when you need it. These banana muffins are easy to make.
Bacon, ham, and sausage
In the United States, you can typically find palm oil free bacon, sausage, and ham. Some brands we use include:
Kirkland Sliced Bacon, Naturally Hickory Smoked: from Costco
Banquet Brown 'N Serve Original 10 Fully Cooked Sausage Links
Pancakes and waffles
Many frozen waffles and pancakes contain palm oil ingredients. Read labels. One that's doesn't contain palm oil is:
Van's Multigrain Waffles
Van's Gluten Free Original Waffles
You can easily make your own with flour, yeast, sugar, milk, eggs, and pure vanilla extract. Be sure to use pure vanilla extract as imitation versions typically contain Propylene Glycol or other palm oil derivatives.
Make batches of fluffy pancakes and waffles and freeze them. In this way, you can enjoy them when you need a fast breakfast.
These are items we use to make it easier to live without palm oil. We love our waffle maker!
100% pure maple syrup
Do watch for syrup. Many bottles contain Mono- & Diglycerides. Always choose 100% maple syrup to avoid palm oil derivatives. You can also make your own syrup. Try this sugar free syrup recipe which uses granulated monk fruit.
Whipped cream
Hold the whipping cream — it contains palm oil in the form of Mono- & Diglycerides. Add pure maple syrup and any types of berries, and/or sliced banana. You won't miss it.
Make whipped cream
If you make whipped cream at home, read the ingredients before buying heavy whipping cream. Choose one without palm oil derivatives, including Mono- & Diglycerides and Polysorbate 80. Organic whipping cream is typically palm oil free. I use Horizon Organic Heavy Whipping Cream in the pint size at Target or in the quart size from Costco. Learn how to make whipped cream. It's so delicious and easy, you'll never buy store-bought again.
French toast
Use Dave's Killer Bread, eggs, pure vanilla extract, and milk without Vitamin A Palmitate. Add pure maple syrup, pure cinnamon, real butter, and fruit, and you have a delicious, filling breakfast without palm oil.
Eggs
There's a lot you can do with eggs. Choose organic eggs if you can. They are always on our Costco foods list because they are usually less expensive there than at the grocery store.
Hard boil them in advance for a quick breakfast on the go. You can also take a few minutes at home to poach, scramble, fry, etc. If you have time, add onion and peppers.
Salsa is typically palm oil free if you buy it, and it's great on eggs.
You can make a frittata in advance. Look online for egg casserole and fritatta recipes or use my easy breakfast frittata muffins recipe. You can add in anything you have: sausage, bacon, spinach, herbs, tomatoes, onion, garlic, cheese, potatoes, etc. Top with avocado.
Note, palm oil free egg substitutes and replacers may contain Vitamin A Palmitate and/or Vitamin E which can be made with palm oil.
According to Food Network, eggs are the most popular breakfast food in America.
Hash browns
Frozen hash brown patties most always contain palm oil because it helps to bind it together.
Buy frozen diced or frozen shredded hash brown potatoes which usually don't contain it. Even better, make your own.
Biscuits and gravy
Don't buy biscuits in the can from the refrigerated section. They contain palm oil. Make your own. Make your own gravy or be sure to avoid gravy in jars. They often contain Mono- and Diglycerides. Some mixes are okay. Be sure to read labels on gravy.
Breakfast sandwiches
These are convenient for a quick breakfast but breakfast sandwiches and breakfast burritos almost always contain palm oil ingredients. Take time to read labels for breakfast sandwiches on croissants, English muffins, and on biscuits.
Instead, make your own from palm oil free tortillas, real cheese, sausage, bacon, onion, and other fillings you have on hand. Regarding tortillas, it just takes a few seconds to read ingredients. Flour tortillas often contain palm oil and/or Mono- & Diglycerides. Corn tortillas typically do not contain palm oil ingredients.
Yogurt
Yogurt is typically a palm oil free item. We've found some Light versions contain Vitamin A Palmitate. Do not buy yogurt with the candy and other mix-ins geared for kids and school lunches. The candies and other toppings most always contain palm oil.
We buy this palm oil free yogurt:
Chobani Greek Yogurt with either Peach, Strawberry, Blueberry, or Black Cherry on the bottom
We get the 20-pack from Costco or purchase them from our local grocery store. You can also add strawberry compote to plain yogurt and in quinoa.
Cereal
See our list of cereals without palm oil. Some homemade options are:
Oatmeal (not instant which often contains Vitamin A Palmitate)
Quinoa – Mix with cinnamon, fresh fruit, nuts, etc.
Read labels, and watch for palm oil and palm kernel oil.
In addition, avoid all cereal with Vitamin A listed in the nutrition panel. It's in the form of synthetic Vitamin A Palmitate, which is made with palm oil.
Watch for Glycerin and Tocopherols in Granola. Instead, make your own. There are many recipes online that are palm oil free.
Oatmeal is palm oil free. However, instant oatmeal usually contains Vitamin A Palmitate.
Make a batch of quinoa to warm up during the week. Add fruit, nuts, cinnamon, pure honey, pure maple syrup, etc. for a warm, hearty breakfast.
For grain-free oatmeal, make cauliflower oatmeal. It's an easy way to add in cauliflower to your family meals. Make cauliflower rice in your food processor or blender, and cook it as you wish.
Oat Peanut Butter Honey Balls
You can easily make these balls with just three ingredients and no baking.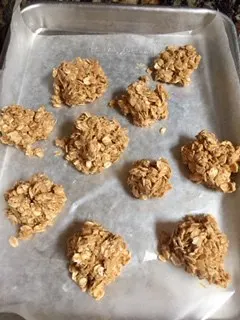 Oats
Peanut Butter w/ just peanuts (+salt okay)
Honey (local if possible)
Mix them on foil or wax paper for easy cleanup. Shape into balls and freeze them to set. Even freezing for 30 minutes is enough.
They are perfect for breakfast and snacks. We use Crazy Richards Peanut Butter with just peanuts. It works well in recipes. Again, many peanut butters now contain palm oil. Read labels before adding it to your shopping cart.
Palm oil free breakfast
Protein bars
Sometimes you need to grab and go, and protein and other types of nutrition bars are a convenient breakfast. Read our post, Granola Bars without palm oil to find palm oil free choices.
Read labels on snack and protein bars. Many contain Palm Oil, Palm Kernel Oil, as well as Glycerin and Tocopherols which are usually sourced from palm oil.
Instant breakfast
It's convenient to have powdered or premade instant breakfast drinks to start your day with vitamins and minerals. However, instant breakfast mixes and drinks typically contain Vitamin A Palmitate.
Fruit
No matter what's in season, there are convenient options to enjoy fruit for breakfast at home or on-the-go.
Cake
Homemade cake is not the healthiest option for breakfast but you can enjoy a treat. It's a nice brunch add-on as well. This donut cake is amazing and taste just like a cake donut.
Coffee and creamer
Black coffee is palm oil free. Flavored coffees, such as buttery caramel, toffee, etc., can contain palm oil derivatives in the "Natural Flavors." Creamer often contains palm oil.
Read labels before buying creamers, and watch for:
Palm oil
Mono- and Diglycerides
Sodium Stearoyl Lactylate
Remember, the more complicated the flavor, the greater chance there are palm oil ingredients.
Instead of creamer, add whole milk. Oftentimes, half and half is also an option. Read labels and watch for Vitamin A Palmitate.
Whole milk typically doesn't contain Vitamin A Palmitate, a palm oil derivative. Choose milk without supplemental Vitamin A.
Manufacturers often fortify nut-based and plant-based milks with Vitamin A Palmitate as well. Read labels before buying.
Reminders for a palm oil free breakfast
Choose pure ingredients
Pure honey, 100% maple syrup
Real butter or Miyoko's Cultured Vegan Organic Butter; not margarine or imitation butter
Pure cinnamon such as Red Ape Cinnamon's Premium Ground Cinnamon which is certified palm oil free.
Watch for milk
Whatever milk you choose, be sure there isn't Vitamin A Palmitate added.
Read labels
We can't always make food from scratch. It's important to read labels before buying anything. There are palm oil free options available. See these other tips for ways to use less palm oil.
Be loyal to palm oil free brands
When you find some palm oil free breakfast items that you enjoy, keep buying them.
Prep in advance
Try to make breakfast foods in advance so you can enjoy them all week.
Make a batch of pancakes, waffles, or French toast. If you add frosting to them, use this easy frosting recipe.
Cook up a package of bacon to enjoy for several days.
Cut up a watermelon, cantaloupe, or pineapple; wash berries in advance.
Make a frittata.
Hard-boil a dozen eggs so you can grab and go.
Cook several cups of quinoa so you can quickly add fresh fruit and nuts.
Make a batch of granola.
If you can plan to make and freeze breakfast foods in advance, you will have them when you need them.
Breakfast without palm oil
Once you get into the habit, it's easy to have breakfast without palm oil. You can change it up with different choices each day. It's mostly about knowing where palm oil is hidden and making some easy substitutions.
Do you have ideas for palm oil free breakfasts? Why do you avoid palm oil? Please Comment below so we can all learn from each other.
My son eats palm oil free. This is a list of what he eats.
Please note, while we read labels, reference the list of names for palm oil derivatives, and email companies asking about their ingredients, the only way to be certain a product is Palm Oil Free is if it has been certified through the Palm Oil Free Certification Trademark or the Orangutan Alliance.
This list of palm oil free breakfast foods is not guaranteed; it shouldn't be used for medical advice. Please do your own due diligence. What are your palm oil free breakfast ideas?